Back
Staircases can transform your space: this Vancouver architecture firm explains why
---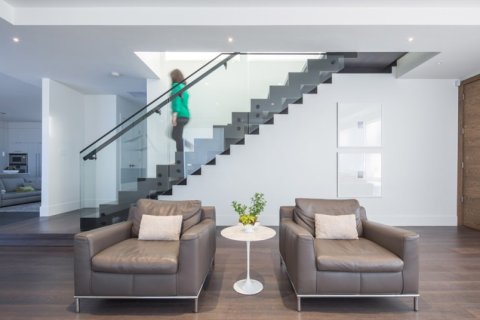 Sponsored Content
Stairs are no longer a simple means to get from one place to another; they are now the dominant centrepieces of our buildings.
"We don't approach [stairs] as a means of vertical circulation—this building element can become the main character of any space," says Nadi Miri, who co-founded Vancouver's innovative m+ Architecture | Interior Design with her sister Ellie.
"From my point of view, stairs can be very functional and practical, but the most beautiful part is the design. It can be very poetic."
And like all great poems, the cutting edge designs the duo incorporate into their residential and commercial projects can be interpreted and enjoyed in several different ways.
From afar, you can observe others as they come and go, while from within the staircase, you can see the building from all new angles and perspectives.
Take their Sonora Residence project, for example.
The functional elements of the stairs, its open one-piece black steel structure and glass guardrails, also create a rhythm matching that of the home's design style. The open risers allow beams of light to shine through, making the home appear more spacious, while the wood finish treads make a seamless transition from one floor to the next.
"A visually strong staircase sets the tone for the architectural language of the space," says Ellie. "Think about the railings, the steps… what do you want to say?"
Ellie says that too often design styles are not approached holistically. This often leads to staircase design that can disrupt the space's flow as well throw off the building's entire design style. A common example, she says, is the use of contemporary glass railings in traditional-style homes.
"People will create stairs out of context," she says. "They see a beautiful staircase in a magazine and just plunk it into their space, and an expert eye can see that it doesn't tie in the entire design and that it doesn't match the movement of the building."
If you'd like to find out more about the Miri sisters, as well as more of their thoughts on designing homes and their architectural work, head to mplusdesign.ca.
By: North Shore News
GuidedBy is a community builder and part of the Glacier Media news network. This article originally appeared on a Glacier Media publication.