Back
Woodopolis: Family company built from the floor up
---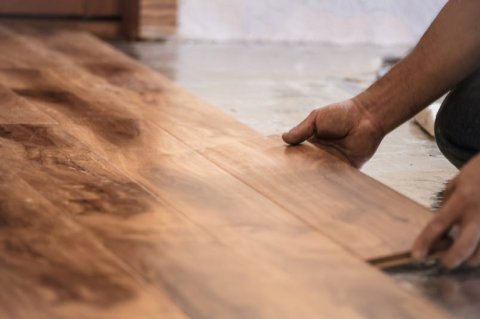 Sponsored Content
Many family businesses are built from the ground up, but Woodopolis Home Centre literally started with hardwood flooring.
The Maple Ridge company started out as a flooring company, Woodopolis Wood Products Ltd., seven years ago, but has since expanded to offer remodelling and renovation services.
But Woodopolis hasn't strayed from its flooring roots. In fact, they've expanded what products they offer, as well as their knowledge of what flooring is best in different circumstances, according to Woodopolis President and CEO Tracy Zhang.
Zhang is known for her flooring and design expertise, but she says it's important for clients to keep their own preferences and lifestyle in mind.
"I always tell customers they can go online, find the picture of the flooring that they like – not necessarily what kind of flooring, just a look," Zhang says. "Focus on a look they like."
She suggests clients should first think about their personal style. For instance, do they prefer contemporary or modern design, or more of a country or traditional feel?
It is also important to keep the current style of their home in mind.
The next thing to consider is what kind of lifestyle they lead, Zhang says. Do they have pets, or children?
"If people have dogs, I definitely recommend laminate more than wood, because wood will get scratched by dogs," she adds. "But laminate's really durable."
Hardwood is a classic for a reason, as it is easy to clean and is often popular with homebuyers, if clients are considering selling. And these days, there are many types of wood, as well as a variety of stains, available to really create a signature look for a home.
But vinyl and laminate flooring are also good choices, according to Zhang.
"Vinyl flooring is getting more and more popular," she says, adding that clients like it because it's waterproof. "The biggest benefit of laminate is durability, and that it's cost effective."
Vinyl flooring also offers many design and pattern choices, and it is also more cost effective than hardwood, according to Zhang.
Whether clients prefer vinyl for the design freedom, laminate for the durability, or hardwood for the classic appearance, Zhang is on hand at Woodopolis to address their needs and help them make the right choice.
Woodopolis provides residential and commercial flooring services in Maple Ridge and Pitt Meadows.
Woodopolis Home Centre is located at 21280 Lougheed Hwy. in Maple Ridge. For more on Woodopolis' flooring services, go to their website or email them directly.
By: Tri-City News
GuidedBy is a community builder and part of the Glacier Media news network. This article originally appeared on a Glacier Media publication.