Back
Live Alone? Tips On How To Manage During The COVID-19 Pandemic
---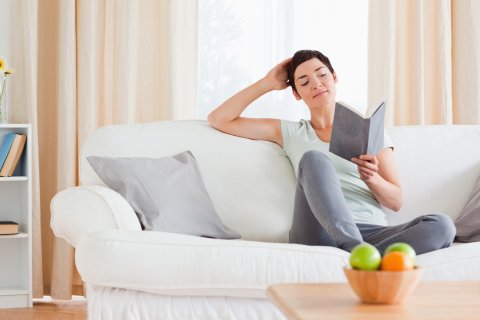 For those with roommates, partners or children, the reality of social distancing, self-isolation or being quarantined during the COVID-19 pandemic may be eased by virtue of having at least some personal contact at home.
But for those who live alone, the next weeks and months may be tougher to handle.
Just ask Christine Hagemoen who lives on her own in an apartment in Mount Pleasant. Hagemoen also works from home.
"I'm used to being on my own generally — and like it — but this is really different. Choosing to be alone is one thing, but being forced to is another altogether. It is at these times I wish I had a pet," she told the Courier.
Hagemoen, however, has a few tips for those in similar circumstances.
She said don't be afraid to talk to yourself out loud and if you can get outside... do it, especially in the sunny weather, while nature is blooming.
Hagemoen added that she had a great Facebook chat Tuesday evening with a friend in New Brunswick.
"Reach out via Skype, DM, email or with people you've lost touch with and with the people you normally see," she suggested.
Former Vision Vancouver councillor Heather Deal, who lives on her own in a 1970s condo in Kitsilano, also has some ideas about how to cope during these challenging times.
"Right now, I'd say that seeking out group activities via technology is really important. Watching my niece's band do their St Paddy's Day concert from a basement in Michigan, and texting family in Michigan, Florida and North Carolina during the concert, was awesome," she said in a message to the Courier.
"If I hadn't been watching that concert I would have been watching Choir Choir Choir's sing-along. And singing along. I'm also keen on offering to help neighbours who can't get out, although I suspect that we will go to drone delivery soon..... And I'm still planning to meet friends for walks and bike rides at this point."
Kerry Smithies, who lives on her own near Main Street, works from home as an accountant. Given much of her day is spent online, she's not keen to sit behind a computer after work. She describes herself as a "very social" person who thrives on being with people.
She says it's too soon to tell how tough social distancing will be. Last week, her daughter was visiting so she went to restaurants and yesterday she went to the grocery store.
"I think the challenge for me is going to be not being able to go to the gym and not being able to go to yoga but those places aren't social anyway," she said.
"... I guess I'll just be out walking around by the beach or walk to Queen Elizabeth Park."
Smithies added she's not worried about mixing with other healthy people to a limited degree. But she is worried about older people who live on their own like one of her neighbours. His kids call every day but don't live nearby. He used to swim every day but can't now that pools are closed due to coronavirus.
"So what's he going to do?" she said.
Like Smithies, Lesli Boldt lives alone and considers herself a people person.
"As an extrovert and a naturally social person, isolation and separation from other people over the past few days have been really hard for me," she said in an email to the Courier.
"As a consultant, I used to work full time from home but put an end to that over 10 years ago because I didn't want to be by myself all the time; I've rented office space ever since 2010. However, my downtown co-working office is now closed, and so am working/worrying from home."
Here are Boldt's tips, in her own words, for getting through the pandemic:
Call friends and family regularly. I'm a Gen Xer, and we remember the days before cellphones and texting, before there was an Internet. But like most people, I've been more of an email/text person the last 10 to 15 years or so, and can easily go months without actually speaking to someone. These days, I'm on the phone with friends more than I have been in years, to check in, find out how they're doing and have a few laughs. A friend of mine and I have a FaceTime drink date at 8 tonight!
Get out of the house for exercise at least once a day. Going for a run, going for a bike ride, like I did today, on the Arbutus Greenway and to Olympic Village, or a long walk helps me to work off some of anxiety and nervous tension. Even if I'm not socializing with people, I can still say, 'Hi,' and feel like I'm part of a community. The past couple of days, I've used my solo runs/rides to scout out nearby neighbourhoods and see which businesses are open/still serving during these crazy times. I've also just decided I don't give a shit and sing along to iTunes at the top of my lungs when I'm out. Singing's good too.
Take walks and runs with only one friend. This sounds like I'm breaking the rules, but I've had a couple of social distancing walks and runs with friends the past few days. We don't hug or touch and put generous space between each other, but at least we can talk and catch up in person. I can see a bike ride like this happening as well, but it hasn't happened yet.
Keep busy. I'm scheduling activities each day in my calendar — do an online yoga class, clean the balcony, re-pot the plants, all of which I did today, cook meals from scratch, do laundry, so that I'm not just sitting on Twitter all day wondering how long this is all going last. This is easier said than done.
At her daily press conference March 19, even Dr. Bonnie Henry, the province's chief health officer, stressed the importance of social connection between people, as long as a safe distance is maintained.
Getting outside is crucial for both physical and mental health, she said, adding that people can also get involved in innovative activities to maintain ties to others such as holding virtual coffee dates, going to take-out windows or dropping food or medications off to people who can't get out.
"These are things that are really important to help us stay connected," she said.
"In particular, we want to make sure that we're not socially isolating our seniors who are most vulnerable to having serious illness… I'm calling on all of us to do what we can in our communities to stay connected."
Henry also encouraged residents to go for walks and bike rides and to take advantage of online offerings such as courses, exercise classes, online museum tours or ebooks.
Online support groups have also popped up on Facebook such as COVID-19 Coming Together (Vancouver).
"We don't have to be physically together to stay connected," Henry said.
noconnor@vancourier.com | @naoibh
By: North Shore News
GuidedBy is a community builder and part of the Glacier Media news network. This article originally appeared on a Glacier Media publication.
Guided By
Topics