Back
A Spring Training Guide for New Runners
---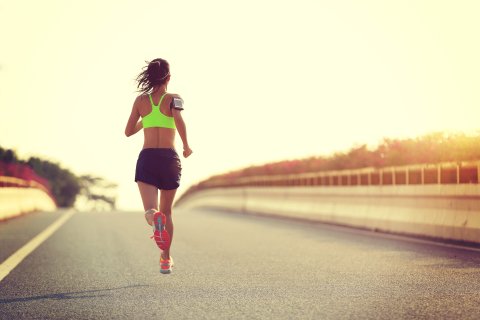 If you are new to running you'll soon learn it's more than putting one foot in front of the other. Running requires proper footwear, gear and to follow a program that facilitates improvement yet keeps you injury-free, to enjoy everything the sport has to offer. I want to help by offering what I call my "runner's toolbox," which contains the following: preparation, recovery, nutrition, and safety that I still apply even though I have been running since 1999. Without further adieu, let's open the box:
Preparation Tips:
Other than ensuring you are properly trained and hydrated on race day, and wearing breathable gear with good shoes, always double-knot your laces before a race!
Recovery Tips:
Follow these steps and your body and mind will recover better and faster for your next race.
Cool Down: Don't sit down after the race. Walk around to keep the blood flowing for about 10 to 15 minutes. Remember to stretch all of your muscle groups. This can help your body's blood flow and prevent your muscles from tightening.
Rest: Not only do you deserve a few days rest before getting back to pounding the pavement - your body needs it. If you work out too soon, you may risk injury. If you must do something, then go for a short walk or do some cross-training.
Recover: Some events offer free massages. This will help relax your tired, aching muscles. Once you get home, enjoy a warm bath or ice bath and do some light stretching. This will help you with your body's circulation. Stretch it out! It is important to listen to your body. Hold each stretch 30 to 60 seconds each: hamstrings, quads, calves, hip flexors are the basics.
Celebrate: Reward yourself after the run because you deserve it. Whether it was a personal best or just making it across the finish line, it is a huge accomplishment to finish.
Nutrition Tips:
Eat: Grab water and a balanced snack that includes carbohydrates, protein, and some fat about 30 to 60 minutes after the race to start replenishing your glycogen storage (your body's tank for stability, taste and hydration potential). If your stomach can't handle food right after you finish, grab a sports drink or chocolate milk instead, as these options have a healthy mix of electrolytes, sugar and calories.
Drink: When running in summer, drink plenty of fluids - at least two to three litres a day. Runners should drink at least two cups of water two hours prior to running and one cup 30 minutes before. If there is a water fountain on your route, utilize it. Otherwise, invest in a belt with mini bottles for longer runs of 45 minutes or more. It is best to take a few sips every 15 to 20 minutes, especially when the heat is a factor. Some runners lose up to two pounds of fluid via sweat, per hour. A balanced, healthy diet, including vegetables, fruit, lean proteins and whole grains are best for an active lifestyle.
Snack: If you feel exhausted after the workout, have carbohydrates within 30 minutes. Good choices include chocolate milk, a banana, cubed melons, orange slices, yogurt, half a wholegrain bagel or a slice of toast with low sugar fruit spread.
Safety Tips:
If running in the heat, plan so that you may avoid the danger zone (11 a.m. to 3 p.m.)
Wear a hat, sunglasses, light sweat-wicking clothes and sunscreen. For more intense or prolonged runs (over 90 minutes) consider a sports drink, or diluted 100 per cent fruit juice (one part juice to one part water) to keep your energy and electrolytes balanced. Although there isn't conclusive research on foods to help avoid heat illness, fruits like pineapple and watermelon have a cooling effect on the body. Limit hot or heavy foods, alcohol and diuretics such as caffeine if you experience symptoms of heat illness.
- I would like to dedicate this column to my mom, Bonnie who inspired me to write. She passed away in Sherbrooke on June 4.
Nutrition and Safety tips - information taken from registered dietitian Crystal Higgins. Christine is TV host of Run With It and Running columnist. For more information go to www.runwithit.ca. Follow her on Twitter @christineruns, or check out her YouTube channel, RunWith It, at runwithitcb1.
By: Burnaby Now
GuidedBy is a community builder and part of the Glacier Media news network. This article originally appeared on a Glacier Media publication.
Guided By
Location
Topics