Back
4 Dishes to Make with Summer Peaches
---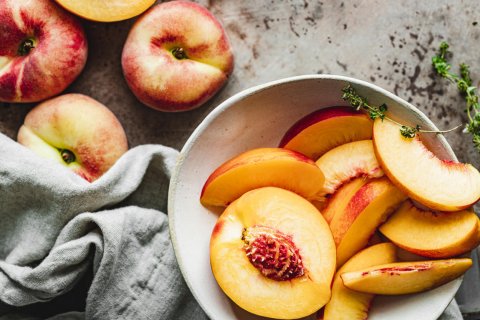 Summer is the perfect time of year to experiment with different ways to use peaches. These juicy, refreshing fruits can be perfect for desserts and are also great additions to salads and other meals. If you want to try some new recipes with peaches, any of these ideas can do the trick.
Peach Cobbler
This classic peach dessert can help you satisfy your sweet tooth. By combining some sliced peaches with some butter, flour and other simple ingredients, you'll be able to make this dessert without having to spend all day in the kitchen. A scoop of ice cream to go along with your peach cobbler can be the perfect summer treat. You can get the recipe here.
Peach Parfait with Salted Graham Cracker Crumble
If you want to try some unique taste combinations, you can try making this fancy dessert. The raspberries, cream and light brown sugar along with the peach slices and graham cracker pieces that you'll taste in this dessert will likely make you want to eat it more. The recipe is available here.
Fresh Peach Salad
In addition to desserts, peaches work great for many salads. The peach slices, walnut pieces and Dijon mustard that are on a fresh bed of lettuce will provide a refreshing taste to go along with almost any meal. At only 200 calories per serving, you also won't have to feel guilty after enjoying this salad. Follow the recipe here.
Peachy Buttermilk Shakes
You can even make your own yummy milkshakes with peaches and drink them to cool off on hot summer days. In just 10 minutes, you can make these shakes by combining some peaches with sugar, buttermilk, vanilla ice cream and a few other simple ingredients. Check out the recipe here.
By using peaches to make these delicious food items, you'll make your summer even sweeter. If you follow all the directions closely to prepare everything correctly, you'll likely want to try using peaches in these same ways again in the near future.
By: gmd_kate
GuidedBy is a community builder and part of the Glacier Media news network. This article originally appeared on a Glacier Media publication.