Back
Chef Trevor Bird shares cooking tips and recipes for busy parents
---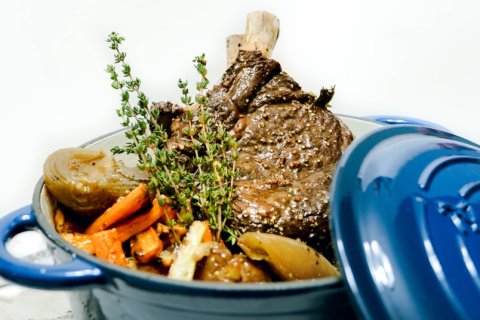 We get it, parents are busy.
In Vancouver at least, it's typical that both parents work, which can make dinner time more than a little hectic. To get some ideas on how to ease some of that stress, the Courier had some questions for Trevor Bird, chef/owner of Fable Kitchen, former Top Chef contestant, spokesperson for Real Canadian Superstore and, most importantly, parent to two-year old Leonidas (Leo).
Q: What's your relationship with Real Canadian Superstore?
A: I am working with Real Canadian Superstore to inspire families to eat healthy all year long at great value. I love health and wellness and I'm a new dad so it was a natural fit.
Q: Does your wife work?
Yes, my wife works with teenagers and families affected by autism, she is currently getting her masters in science so she can further assist them. We are a busy house hold!
Q: I can only imagine the hours you work. How do you organize meals in your household?
A: We organize very carefully. We meal plan and then spend one hour twice a week getting everything ready, whether it's chopping the ingredients up or pre-cooking the protein. Mason jar salads are a life saver. You can make 10 lunches using whole foods, in under an hour. Tip: First make a menu, then a shopping list. Once you have all your ingredients, get into the kitchen and start cooking.
Q: Do you have any other tips for busy parents struggling to find balance between work and family life?
A: I think with two career driven people and a two-year old in an expensive city, "a balance" is very personal. Whatever makes you happy. If you're not happy grinding for more than ten hours a day, make a change. If you enjoy working part time and you don't have much going on, make your life choices in that direction. It's about meeting each other's expectations and being content with where you're at.
Q: Do you have a go-to healthy snack for kids?
A: My kid loves "sumas" (smoothies) so frozen fruits — and I can sneak some spinach in there with some peanut butter and honey.
Q: Do you have a favourite healthy recipe moms and dads can make for dinner after a long day at work that's relatively easy to pull together?
A: My mother-in-law cooked for us a couple months ago and braised a whole ribeye. I was shocked. Being a chef, I have never even thought about braising a meat I was taught to cook rare or medium-rare my whole life. It was the best piece of meat and it's so versatile once it's cooked. It's great the night of, for sandwiches the next day, pastas the dinner after. The list goes on.
Q: Does wine help?
A: You need two bottles for the braised rib eye. One for the rib eye, one to share over dinner.
Trevor Bird's time-saving recipes:
For busy parents who are always on the go, meal prep is really important to work into your schedule. If you can dedicate one hour, two days a week, you can ensure your family will eat healthy meals all week.
Mason jar chop salad
This can be ready in your fridge and all you have to do is shake it and put it in a bowl. And if you don't want to dirty extra dishes, eat it out of the jar.
Makes: 4 servings
Prep time: 30 minutes
Cook time: 40 minutes
Ready in: 1 hour, 10 minutes
Difficulty Level: Easy
Ingredients: chicken prep
6 chicken breasts
Salt to taste
Pepper to taste
50 ml No Name pure olive oil
On your prep day, turn oven to 250-F and let preheat
Season chicken with oil, salt and pepper
Place chicken on a baking sheet and bake for 30-40 minutes
Remove from oven and let cool. Place in fridge until ready to use (up to 5 days)
Chef's Tip: The temperature may seem low, but you can literally forget about the chicken and it will still be moist. Once it's cool, cube the chicken up for the salad. This salad can be made up to two days in advance. When you want it, simply take it out of the fridge and shake it. Place it in a bowl and eat it.
Salad prep for one mason jar
2 tbs ranch dressing
2 tbs broccoli florets blanched, cut into bite size pieces
2 tbs peppers, diced
3 tbs cubed chicken
Large pinch feta cheese crumbles
½ apple, thinly sliced .
2 tbs bacon cut into small pieces and cooked until crispy
10 grape tomatoes, cut in half
Fill to top of jar with baby spinach
Chef's Tip: It's very important to build the salad layers in one-litre mason jars in this particular order so it doesn't get soggy.
Braised rib eye with root vegetables and roasted potatoes
This is something you can easily cook all day long, in one pot and have a ton of leftovers for braised rib pasta, hash for breakfast, grilled cheese sandwiches, the list goes on and on — it can be a catalysts for many more meals. Have you ever braised a ribeye? Neither had I, until I saw my mother-in-law do it and it blew me away.
Makes: 6 large servings
Prep time: 30 minutes
Cook time: 4 hours
Ready in: 4 hours, 30 minutes
Difficulty Level: Easy
Ingredients
2kg bone-in AAA Rib Eye
Salt to taste
Pepper to taste
Beef bouillon concentrate to make 1 litre
4 cloves of garlic
2 onions, cut into 4
6 carrots, peeled and cut in 2
6 parsnips, peeled and cut in 2
Roast potatoes:
24 yellow mini potatoes
100 ml No Name Pure Olive Oil
Salt to taste
Gravy:
1 heaped tbs whole grain Dijon mustard
2 tbs No Name red wine vinegar
Directions
Boil potatoes until they can easily be pierced with a fork (include this in your meal prep, they'll keep fresh in the fridge for a few days)
Preheat oven to 250-F
Season the ribeye thoroughly with salt and pepper
Sear the meat in a large pot on all sides until it's golden brown
Place in PC Dutch Oven (or oven proof pot) and place in stock, garlic, onions, carrots, parsnips and cover with lid
Place in oven for four hours until the bones can easily be pulled off, take out of the oven, let cool and get the potatoes going. The beef can rest and will stay hot with a lid on until the potatoes are ready
Roast potatoes:
Turn the oven up to 400-F, take the potatoes and toss in oil and salt to taste and eat one to ensure good seasoning
Roast them for 40-50 minutes until golden brown and crunchy
Gravy:
If you want to thicken your gravy drain the liquid from the beef and skim the fat off with a ladle
Put in a pot and bring to a simmer
In a small bowl mix 1 tbs cornstarch and 1 tbs water. Slowly drizzle the cornstarch in and whisk. If you don't want to use cornstarch you can use rice flour instead.
Season gravy with PC® Whole Grain Dijon Mustard and No Name Red Wine Vinegar.
Place all potatoes and vegetables around beef and serve.
sthomas@vancourier.com
By: Vancouver Courier
GuidedBy is a community builder and part of the Glacier Media news network. This article originally appeared on a Glacier Media publication.
Guided By
Location
Topics