Back
Stuck At Home? These BC Breweries Will Deliver Beer to Your Door
---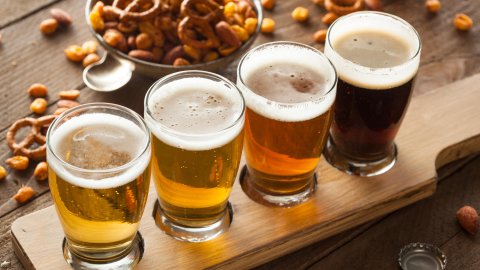 Just because you're stuck inside due to this pesky COVID-19 outbreak, that's no reason to go without beer. Thankfully, a number of B.C. craft breweries offer online sales, with delicious craft beer available to be delivered right to your front door. In Vancouver, you can even get Skip the Dishes to deliver beer from some of your favourite craft breweries.
That's why we've compiled this handy dandy list of breweries and liquor stores that will deliver beer right to your front door. "Self isolation" and "social distancing" doesn't mean you can't crack a beer or three. It's not like there's anything else to do!
33 Acres Brewing Co.
15 West 8th Ave., Vancouver
Andina Brewing
1507 Powell St., Vancouver
Another Beer Co.
#11–30 Capilano Way, New Westminster
Backroads Brewing
460 Baker St., Nelson
Call 778-463-3361 to place an order
The Bakery Brewing
2617 Murray Street, Port Moody
Barkerville Brewing
185 Davie Street, Quesnel
Beach Fire Brewing
594 11th Ave., Campbell River
Beere Brewing Co.
312 Esplanade East, North Vancouver
Bomber Brewing
1488 Adanac St., Vancouver
BREWHALL
97 East Second Ave., Vancouver
Category 12 Brewing
2200 Keating Cross Rd., Central Saanich
Coal Harbour Liquor Store
1218 West Pender St., Vancouver
Container Brewing
1216 Franklin St., Vancouver
Copper Brewing Co.
#102-1851 Kirschner Rd., Kelowna
Crossroads Brewing & Distillery
508 George Street, Prince George
Call 250-614-2337 to place an order
Dageraad Brewing
#114–3191 Thunderbird Crescent, Burnaby
Dog Mountain Brewing
3141 3rd Avenue, Port Alberni
Call 250-668-4765 to place an order
Driftwood Brewery
102-450 Hillside Ave., Victoria
East Van Brewing Co.
1675 Venables St., Vancouver
Electric Bicycle Brewing Co.
20 East 4th Ave., Vancouver
Faculty Brewing Co.
1830 Ontario Street, Vancouver
Farm Country Brewing
#5-20555 56th Ave., Langley
Field House Brewing
2281 West Railway Street, Abbotsford
Foamers' Folly Brewing Co.
19221 122A Ave., Pitt Meadows
Four Winds Brewing
#4–7355 72nd St., Delta
Gladstone Brewing
244 4th Street, Courtenay
Highway 97 Brewery
954 Eckhardt Ave. West, Penticton
Call 778-996-6875 to place an order
House of Funk Brewing
350 East Esplanade, North Vancouver
Land & Sea Brewing
2040 Gutherie Rd., Comox
Call 250-941-5577 to place an order
Luppolo Brewing
1123 Venables Street, Vancouver
Main Street Brewing
261 East 7th Ave., Vancouver
Maple Meadows Brewing
22775 Dewdney Trunk Rd., Maple Ridge
Moody Ales
2601 Murray Street, Port Moody
Moon Under Water Brewpub & Distillery
350 Bay St., Victoria
Mountainview Liquor Store
4333 Fraser St., Vancouver
Mt. Begbie Brewing
2155 Oak Dr., Revelstoke
Call 250-837-2756 to place an order
New Tradition Brewing
#11-215 Port Augusta Street, Comox
Call 236-362-2022 to place an order
North Point Brewing
266 East First Ave., North Vancouver
Off The Rail Brewing
1351 Adanac Street,Vancouver
Old Abbey Ales
#1A–30321 Fraser Hwy., Abbotsford
Call 604-607-5104 to place an order
Old Yale Brewing
#404–44550 South Sumas Road, Chilliwack
Parallel 49 Brewing
1950 Triumph Street, Vancouver
Call 604-558-2739 to place an order
Parkside Brewery
2731 Murray St., Port Moody
Call 604-492-2731 to place an order
Pemberton Brewing Co.
1936 Stonecutter Pl., Pemberton
Email order to j@pembertonbrewing.ca; menu online here
Phillips Brewing
2010 Government St., Victoria
Call 250-380-1912 EXT 2 to place an order
Postmark Brewing
55 Dunlevy Ave., Vancouver
Public Liquor
#301—1750 Pier Mac Way, Kelowna
Ravens Brewing Company
2485 Townline Rd., Abbotsford
Red Arrow Brewing
5255 Chaster Rd., Duncan
Red Collar Brewing
355 Lansdowne Street, Kamloops
Red Racer Taphouse
871 Beatty St., Vancouver
Riot Brewing
#101A—3055 Oak Street, Chemainus
Call 250-324-7468 to place an order
Rustic Reel Brewing Co.
760 Vaughan Ave, Kelowna
Email sales@rusticreel.com to place an order
Sherwood Mountain Brewhouse
#101—4816 Highway 16 West, Terrace
Text 250-631-2600 to place an order
Slackwater Brewing
218 Martin Street, Penticton
Call 236-422-0812 or email info@slackwaterbrewing.com to place an order
Slow Hand Beer Co.
1830 Powell St, Vancouver
Sooke Brewing Co.
2057 Otter Point Rd., Sooke
Call 250-642-0106 to place an order
Sooke Oceanside Brewing
#1-5529 Sooke Road, Sooke
Call 778-352-2739 to place an order
Spinnakers Brewpub
308 Catherine Street, Victoria
Steamworks Brewery
3845 Williams St., Burnaby
Steel & Oak Brewing
1319 3rd Ave., New Westminster
Strange Fellows Brewing
1345 Clark Drive
Strathcona Beer Co. / Superflux Beer Co.
895 East Hastings Street, Vancouver
Streetcar Brewing
123A 1st Street East
Tailout Brewing
1810A 8th Avenue, Castlegar
Tapworks Brewing Co.
537 Cruice Lane, Gibsons
Tinhouse Brewing
#2140–550 Sherling Place, Port Coquitlam
The Bottle Shop Liquor Store
1489 East Hastings St., Vancouver
Torchlight Brewing
125 Hall Street, Nelson
Townsite Brewing
5824 Ash Ave., Powell River
Trading Post Brewing
20120 64th Ave., Langley
Trading Post Eatery & Growler Bar
3058 Gladwin Rd., Abbotsford
Twa Dogs Brewing
761 Enterprise Crescent, Saanich
Twin Sails Brewing
2821 Murray Street, Port Moody
Ucluelet Brewing Co.
1601 Peninsula Rd., Ucluelet
Call 250-726-0499 to place a beer or food order
Vancouver Island Brewing
2330 Government St., Victoria
Call 250-216-2320 to place an order
Wheelhouse Brewing
217 1st Ave. East, Prince Rupert
Whistle Buoy Brewing
#63–560 Johnson Street, Victoria
Whistler Brewing
1045 Millar Creek Rd., Whistler
Call 604-962-8889 ext 105 to order
White Rock Beach Beer Co.
15181 Russell Ave, White Rock
Call 778-808-5416 to place an order
Wildeye Brewing
1385 Main Street, North Vancouver
Wolf Brewing Co.
940 Old Victoria Road, Nanaimo
Yellow Dog Brewing
2817 Murray Street, Port Moody
Read more from The Growler B.C.
By: Vancouver Is Awesome
GuidedBy is a community builder and part of the Glacier Media news network. This article originally appeared on a Glacier Media publication.
Guided By
Location
Topics