Back
You can find heart and heat at this Burnaby restaurant
---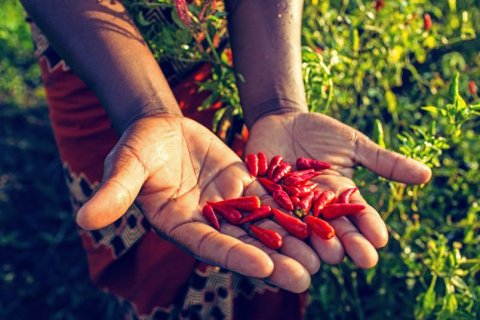 Sponsored Content
Just like Nando's beginnings in South Africa, the story of how one of the world's favourite restaurants came to BC starts with great tasting chicken.
Scott Freeman and David Sarai experienced love at first bite when they tried Nando's flame-grilled PERi-PERi Chicken. The duo fell in love with the heat and flavor of Nando's and knew they wanted to share the experience with Central Burnaby.
So, what's the secret to their continued love affair with Nando's? The PERi-PERi chillies!
These tiny red chillies are unique to Nando's. They are the heart and heat of the brand. They are a very special type of African Bird's Eye Chillies that can only be grown in Southern Africa.
Alongside their love of the taste of PERi-PERi, Scott and David are also fired up by the brand's continued commitment to the people who farm them.
Nando's is about more than PERi-PERi and chicken; it is about the people who work with them and the communities they touch in Mozambique, Zimbabwe, Malawi and South Africa. Nando's works with 1,400 farmers in 18 growing regions across Southern Africa. "It is something we are proud of. What warms our hearts even more is the difference that is made to people's lives," says Pam Jacques from Nando's Canada.
From Southern Africa to Central Burnaby. They invite you to try Nando's for yourself at 4334 Kingsway, Burnaby BC. You can also call Nando's at 604.434.6220 or visit their website.
By: Burnaby Now
GuidedBy is a community builder and part of the Glacier Media news network. This article originally appeared on a Glacier Media publication.
Guided By
Location
Topics