Back
Blissful Buddha-Bus takes to the streets
---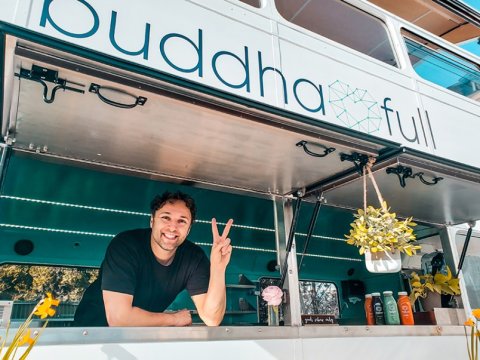 Buddha-Full's Buddha-Bus has added a blissful new dimension to the growing North Shore vegan business.
The renovation of a 1965 British double-decker bus gives founders Geremie Voigt and Kyla Rawlins a mobile restaurant to complement their two North Vancouver locations in Lower Lonsdale and Northwoods Village.
The duo found their massive food truck on wheels resting in retirement up a mountain deep in the forest near Sooke on Vancouver Island.
"It used to be a working bus in the U.K. during the'60s and '70s," says Voigt. "It was not in the best condition but it ran and that's all we needed."
Originally red, the bus has seen a few colour changes over the years including white, maroon and then back to white for it's current incarnation as a multi-purpose food truck.
The process of converting the vehicle into Buddha-Full's vision took 18 months to complete working with food truck specialists Apollo Custom Manufacturing.
"It came from us really wanting to represent our store and our community in the best possible way," says Voigt. "We didn't just want to be a truck pumping out smoothies, we wanted to be something you noticed and you definitely notice a 14-foot bus rolling by."
Buddha-Full has installed a hydraulic roof which can be raised during the warm summer months and closed during winter.
The upper deck also features a table running down the centre which can be removed in favour of seating along the sides with a pop-up bar depending on the event.
"Ambiance and feeling really go hand in hand with what our mission is," says Voigt. "We want to inspire love and nourish health for every person, every being and every community and your environment plays a big part in that and we thought that the bus needed to have the same feeling that our stores do – that was a big motivation for us."
The downstairs includes a kitchen with all the fixtures needed to create Buddha-Full's menu within the confines of a heritage bus. There were a lot of limitations about what could go where, but everything they needed for a full-service kitchen has been installed.
"That was a big want for us," says Voigt. "It can do everything we do in our stores but with a smaller menu. We got our freezer, we have our fridges, ovens. We don't do hot beverages as of yet but we're going to bring a steamer on for winter which will allow us to do our golden lattes, our chais and beetroot lattes and stuff like that."
Buddha-Full offers over 70 menu items in-house and that has been narrowed down to approximately 15 items on the Buddha-Bus, says Voigt.
"It will have our top selling Buddha Bowls, wraps, salads and smoothies. Usually we rotate our cold-press juices for the season – watermelon season is coming up now so we're going to be doing a watermelon juice."
Saturdays throughout June the Buddha-Bus has been stationed at North Vancouver's Capilano Mall as part of the month-long Nosh Foodie Fest. It will finish off its Nosh run this weekend on Saturday, June 29 from 11 a.m. to 6 p.m. On Sunday, June 30, from 9 a.m. to 2 p.m., the bus will be at Dollarton Plaza in front of Maa Yoga where all the profits are going to support a dog sanctuary called Swaroop Dog Sanctuary in Jaisalmer, India.
Food truck events coming up include: Canada Day on Robson Street, North Vancouver Shipyards Grand Opening July 20 and the Shipyards Night Market July 19 and July 26.
Other plans for the bus include music festivals (FVDED in the Park, July 5 and 6 at Surrey's Holland Park) and pop-ups (Willowbrook Mall Pop-up, July 12-14). Catering for weddings, special events, such as beach parties with DJs and film location shooting are also planned.
Weekends for the Buddha-Bus are fairly busy throughout the summer with a two-week stand at the PNE set for Aug. 16 to Sept. 3.
"They have an initiative to bring healthy food options to the PNE," says Voight. "They're excited it's a health-based food truck that people will have an option to have."
A filmmaking crew documented the entire retrofit with the finished film expected to be released by the end of the summer.
Click here for the complete schedule.
By: North Shore News
GuidedBy is a community builder and part of the Glacier Media news network. This article originally appeared on a Glacier Media publication.
Guided By
Location