Back
Three Vancouver brunch spots that might not be on your radar, but should be
---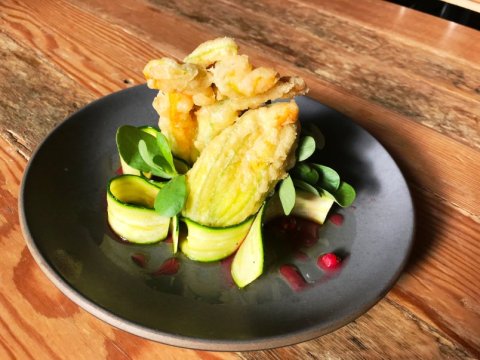 My husband and I love to go out for brunch. Our weekdays don't allow us the time for a leisurely breakfast and we rarely go out for dinner because our work has us in different parts of the city on any given day.
But, come the weekend there's nothing we like more than taking our time over a great cup of coffee and enjoying brunch. In recent weeks, I've had the opportunity to check out these three spaces, two new and one that's been around for a while — why have I never eaten at Burdock & Co before? They're at varying price points and offerings, so depending on what you're looking for there should be something on this list that fits your brunch craving.
Chef and owner Andrea Carlson opened Burdock & Co. in the Little Mountain neighbourhood in 2013 and, as unobtrusive as the entrance is, the food is anything but. While we were there, I overheard two different couples (at different tables) from out of town tell their server they had heard and read so many great things about the food they had included Burdock & Co on their list of must-dos while visiting Vancouver. Meanwhile, for some reason this was our first visit — but not our last.
The décor can best be described as non-fussy with white-washed brick walls with tables and accents made from salvaged wood and barn board. But, there's no need for flash when a restaurant serves food this good. The wine menu is also exceptional — with a global focus based on artisanal techniques with no unnatural additives. We also enjoyed one of their craft-made gin and tonics with cucumber. The menu changes with the seasons, so I can't promise they'll still be there, but if you get a chance to try the roasted radishes, just do it.
During brunch you'll find a smaller, thoughtful menu including crispy fried chicken with potato pickle mayo and dill powder; bacon, carmalized onion and cheddar cheese frittata and soda bread; and pizzichi farro pasta with anchovy, dandelion, preserved lemon and black garlic.
D/6 Bar and Lounge in the Douglas Hotel: Parq Vancouver
D6 is probably better known for its nightlife and as a place to see and be seen over cocktails after work or in the evening, but this indoor/outdoor rooftop space also offers up a wonderful brunch. This spacious lounge features dramatic views of the city, but also of B.C. Place, which is so close I hear those in the know have taken to dropping by D6 to listen to big name artists during rehearsal or even during a concert — hello Beyoncé and Jay-Z.
Enjoy handcrafted cocktails, carefully chosen wines and unique small bites during brunch, including the Korean and lemon/pepper chicken wings, which take game day to a whole new level. Also on the menu is sushi, salads, flatbread pizzas and paninis.
When I went to check out this brand-new space on Davie Street Aug. 28, I watched several curious/hungry chicken lovers walk away disappointed when they discovered Little Juke wouldn't be opening until the next day, so there was obviously already a buzz about the place. And no wonder — the original Juke Fried Chicken, which was opened on Keefer Street two years ago by Justin Tisdall, chef Bryan Satterford and Cord Jarvie — still has people regularly line-up for its chicken. Besides their fried chicken, the menu varies slightly from the original location with new menu items including rotisserie chicken sold whole or by the half.
The fried chicken is non-GMO, grain-fed and free-range in a gluten-free coating. Also on the menu are Vietnamese-inspired nuoc cham ribs, slaw, the Big Boy fried chicken sandwich, mac and cheese poppers (so good), karaage-style chicken and milkshakes. This 22 seat space is also fully licensed and has a take-out counter in case you want your brunch, or any meal, to go.
Meanwhile, the brunch menus at the Keefer Street location offers up a biscuit with sausage gravy and honey glazed ham; chicken and waffles; and breakfast sandwiches made with Southern-style biscuits. Open 11 a.m. to "late."
sthomas@vancourier.com
@sthomas10
By: Vancouver Courier
GuidedBy is a community builder and part of the Glacier Media news network. This article originally appeared on a Glacier Media publication.
Guided By
Location
Topics