Back
Comfort Food for Uncomfortable Times
---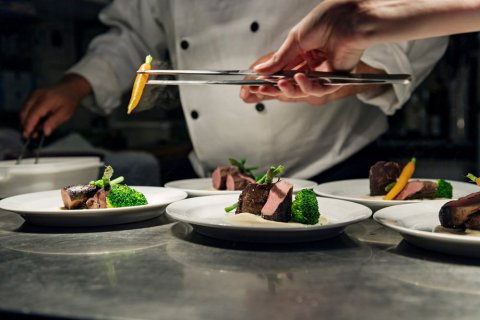 In a year in which our lives have been completely upended, it's often the simple things that manage to bring the most comfort.
All of a sudden, the smallest pleasures take on an even greater significance: a walk shared with a friend, a good book next to a roaring fire, and the many opportunities for quiet contemplation that have been one of the major silver linings of this globe-altering pandemic.
But it is perhaps food and its many nostalgic powers that have been the most consistent source of solace through these strange, trying times—just look at the surge in home baking that left countless grocery stores out of flour at the dawn of the pandemic as proof.
And even though this winter is bound to look different for Whistler's tourism and restaurant sectors, you will find that the restaurateurs, chefs and servers that make this resort town tick have upped their game even more to satisfy the needs of their guests.
With that in mind, Whistler Magazine caught up with three of our favourite local restaurants and asked them to highlight their most tried-and-true comfort dishes as they look ahead to a winter season that will be unlike any other.
The Wildflower Restaurant at the Fairmont Chateau Whistler
It's a trend that was already well underway at The Wildflower before COVID-19, but it took a global pandemic for the team at the Fairmont Chateau Whistler's award-winning mountainside restaurant to kick their emphasis on ethically grown, local ingredients into high gear.
"[Executive sous chef] Derek [Bendig] made a commitment when we reopened the Wildflower this past June that everything on the menu was going to be from here," explains Executive Chef Isabel Chung. "We've been really focused on the best of B.C."
In what is a rarity for a multi-national luxury hotel chain, the Fairmont has gone to great lengths to forge relationships with small-scale local suppliers that share Bendig's passion for high-quality local products. That means sourcing grass-fed beef from the Hanceville Cattle Company in the Chilcotins, sustainably grown rainbow trout from the N'Quatqua First Nation in D'Arcy, and pasture chicken from the homesteading farmers at Spray Creek Ranch in Pemberton. It's the pasture chicken from Spray Creek Ranch—served with sunchoke brown butter, glazed carrots, turnips and spinach—that Chung selects as a simple yet eminently comforting dish that she keeps coming back to in turbulent times.
"Roast chicken is the most comforting thing across a widespread group of people," Chung says. "Across cultures, this is a dish that plays for almost everybody."
Chung also credits Spray Creek Ranch for adopting a regenerative approach, processing everything they grow right on the farm; young ranchers Tristan and Aubyn Banwell even installed an abattoir on the property for other farmers to make use of.
"Basically, everything that is hatched on that farm is processed on the farm. So the baby piglets are born there and the bacon is also smoked there. The eggs are laid there and the chickens are processed there as well," says Chung. "We use their chicken at the Wildflower, and what I think is super exceptional about that is how rare it is to see hotel restaurants behaving like restaurants. We don't want to serve commercial-grade chicken. We believe that they are ranching a much better product."
With COVID disrupting global food supply chains and exposing our over-reliance on imported goods, the importance of staying local has become even clearer to Chung.
"We want to make sure our young farmers, our local suppliers, those that we've had partnerships with for years and years will also survive this uncomfortable time."
Royal Taste of India
Butter chicken is almost a cottage industry unto itself within the world of Indian cuisine. First created by happenstance in 1947 when the chefs at a Delhi restaurant mixed leftover chicken into a rich, tangy sauce of tomato, butter and cream, today you can't walk into any self-respecting Indian restaurant without it listed high on the menu.
Nowadays, the dish has become more popular in North America, the U.K. and Australia (where it's commonly eaten as a pie filling) than in its native India, where the majority of the population is vegetarian. According to Jinder Nijjar, the owner of Whistler's Royal Taste of India, there is a simple reason for butter chicken's appeal in the West that speaks to what makes comfort food so damn, well, comforting.
"The first bite when you are eating butter chicken, many Westerners feel like they are eating something else. It reminds them of something they used to eat as kids, like maybe tomato Bolognese," he explains.
Like a lot of Indian curries, butter chicken is easily modified to a diner's specific tastes, Nijjar says, another factor explaining its popularity, particularly with people who may be new to Indian food.
"It's made with other people's taste in mind, with creamy tomato sauce, and our chefs, they modify it to how people like it," Nijjar notes. "They use cream and tomato sauce, but they put in other Indian ingredients, like garam masala and other spices to make it more delicious depending on someone's experience with Indian food."
Red Door Bistro
Red Door Bistro, Whistler's revered French fusion kitchen, was always a hot ticket in town, with only 40 seats in its cozy environs. So if you thought landing a reservation was difficult before, "It's even harder now!" exclaims Executive Chef RD Stewart.
A local hidden gem tucked into an unassuming space in Creekside, Red Door Bistro's relatively small space has presented numerous challenges with COVID capacity restrictions in place. But that doesn't mean Stewart is ready to throw in the towel. Far from it.
"My mindset is: I'm not giving up. I'm not going to fold," he says. "We've worked hard enough to open this business and get our reputation to where it is, and getting all doomy and gloomy about it isn't going to help. We're going to do the best we can."
After being forced to close for several months and streamlining the menu to allow for quicker turnaround times, Stewart and his crew could use some culinary comfort, and he points to one dish in particular that he serves both at home and in the restaurant to do the trick: his modern take on a classic French staple, beef Bourguignon.
"It's my version of beef Bourguignon, but it's not a true Bourguignon in away," he explains. What separates Stewart's dish from the French classic is, after marinating the angus beef in herbs and red wine for two days and braising it until it's "fork-tender," he cooks his fingerling potatoes, carrots and French green beans in a separate pot, giving the usually soft, hearty stew a distinct texture that adds a level of elegance to the plate.
"There's no refinement in just scooping it on the plate," he says, of the traditional stew.
"We're trying to elevate it a little bit—like everything we do."
By: Whistler Magazine
GuidedBy is a community builder and part of the Glacier Media news network. This article originally appeared on a Glacier Media publication.
Guided By
Location