Back
New restaurants open at River Market
---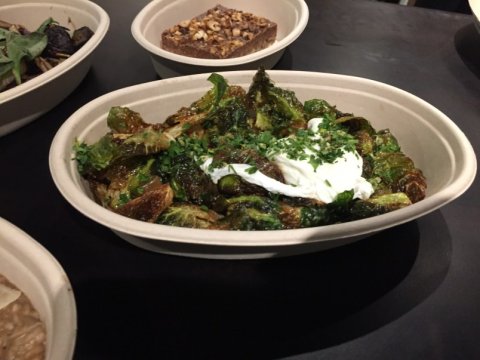 River Market has two new eateries for foodies to enjoy.
Angelina's Dutch Corner has taken up residence in River Market, after outgrowing its former home at a nearby building. As part of the move a larger space that was formerly occupied by Wild Rice, the restaurant plans to add dinner service to its popular breakfast and lunch menu.
Amaranthus, a new plant-based restaurant being operated by El Santo owner Alejandro Diaz and El Santo chef Sam Fabbro, is open for business in River Market. Its menu features items like fried Brussel sprouts, roasted beet and carrot soup, a veggie burger (with $1 from each purchase being donated to Impact Parkinson's Centre), chocolate rosemary cashew cake, rosemary salt churros and beet cream soda.
Fabbro said Amaranthus is doing a partnership with the IMPACT Parkinson's centre, which provides programs and services to people with Parkinson's and their families. In addition to a fundraiser for the organization, he said Amaranthus is donating $1 from each veggie burger sold to the New West-based non-profit.
Diaz, whose mother-in-law has Parkinson's, chose Parkinson's as the restaurant's cause to support, after actor and Parkinson's activist Michael J. Fox dined at El Santo. At a media night held the day before the restaurant opened on May 1, Robyn Murrell of Impact Parkinson's read a note from Fox to Diaz.
"Congratulations on Amaranthus. I look forward to dining there when my family and I return to New Westminster. We are big fans of your work," said the letter. "Happy to hear you are partnering with IMPACT Parkinson's and honoured to have your help and support. Please send your mother in law my bestwishes. On behalf of everyone living with Parkinson's disease, thank you."
By: New West Record
GuidedBy is a community builder and part of the Glacier Media news network. This article originally appeared on a Glacier Media publication.
Guided By
Location
Topics