Back
This Burnaby macaron maker will steal your soul
---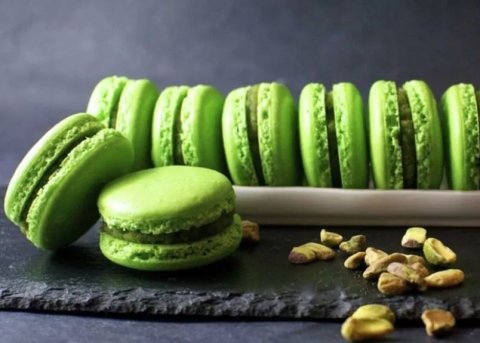 Snoring might seem like a weird way to start a food blog about desserts, but trust me – there is a connection.
See, I snore. Like, loudly.
Earthquakes tell me to shut the hell up.
To combat this problem, I use a special sleep machine known as a CPAP, which I have serviced regularly through a sleep clinic located behind Metrotown mall.
It's my favourite medical appointments of the year because the clinic is located right beside Mon Paris, a pastry shop that sells one of my favourite Burnaby bites.
Russian pastry chef Elena Krasnova makes some truly divine macarons in a variety of incredible flavours. And I never fail to stop in for a box of assorted flavours, plus a couple extra of my favourites - pistachio and lemon.
If you haven't tried a macaron before, well, I don't know what to say. You need to get out more. But don't just buy any macaron. Some stores have them near the check-out aisle in packages, but who knows how old they are.
Buy them fresh and buy them from a real bakery that takes the time and care that is needed.
When they are done right, they are a perfect bite.
Some call them a cookie and that might be true, but I feel the term doesn't quite live up to the greatness a macaron truly achieves. It's like a mini-cake or a love sandwich. It's so tiny, but there's so much going on.
It's soft. It's firm. There's a miracle flavour-and-texture bomb called meringue. You can take a bite or pop the entire thing in all at once.
Mon Paris does macarons right every time and they have an incredible array of flavours like raspberry, caramel, passion fruit and lavender.
In March of this year, Mon Paris donated a portion of sales on Macaron Day sales to the BC Cancer Foundation.
Of course I bought a couple of boxes. Gotta support the cause, right?
DISCLAIMER: I haven't been paid by the subject of this blog. They don't even know I'm writing about them. I just like their food.
By: Burnaby Now
GuidedBy is a community builder and part of the Glacier Media news network. This article originally appeared on a Glacier Media publication.
Guided By
Location
Topics