Back
Burnaby business reaping big growth in oat milk
---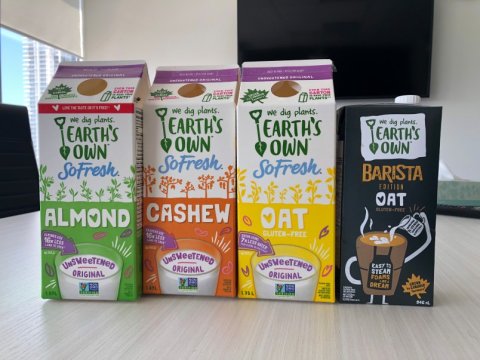 If you've heard of oat milk, you may be part of a minority of Canadians. If you've tried the dairy-alternative, you're part of a small but rapidly growing group of consumers.
And that number is, indeed, growing fast. Earth's Own director of marketing, Brittany Hull, said the Burnaby-based business has seen its oat milk products flying off the shelves – sales in the last year grew 250 per cent over the year prior.
Earth's Own was ahead of the curve in Canada, bringing an oat milk product to stores in 2017 with a slow start. But around September 2018, Hull said, it really took off.
"It's reaching a bit of this tipping point, especially with some of the changes we're seeing in Canada's Food Guide, where even the regulations are talking about looking at plant-based options," Hull said. "We actually have the biggest challenge to keep it on shelves."
But Earth's Own's oat milk product comes about two decades behind the original. Oatly was founded in the 1990s in Sweden, but it only crossed the Atlantic in the past few years.
Now, that 250 per cent growth means it is the "growth engine" of the milk-alternative industry, Hull said, but it still hardly holds a candle to some of the other milk alternatives.
Almond milk, which Hull called the "behemoth" in the milk-alternative industry, grew six per cent year-over-year industry-wide (nine per cent for Earth's Own), but it still makes up about 60 per cent of the roughly $250-million milk-alternative industry.
The rapid growth of oat milk isn't affecting almond milk or soy milk sales, Hull said, even though the latter has been shrinking over the past few years. Instead, she sees oat milk digging at the traditional milk customer base, converting new devotees to the counter-milk movement.
The new food guide's emphasis on plant-based diets is part of that, but Hull said it also helps that oat milk emulates dairy milk better than most other alternatives in baking and in coffee or tea.
In fact, a new product introduced in April – a "barista" oat milk – is foaming up lattes in 250 cafes throughout Canada. That product has been seeing 50 per cent growth every month since it kicked off, Hull said.
But the intention isn't to pull customers away from dairy, Hull said – Earth's Own is owned by dairy farmers.
"Our company, we've got the most progressive dairy farmers around that actually decided to go and buy a plant-based milk brand as a way to insulate their business," Hull said. "Ninety per cent of our consumers have both dairy and plant-based milk in the fridge."
With the growth of oat milk come some environmental advantages, Hull said.
For one, while almond milk uses about half the water that dairy uses, oat milk uses around one-seventh of the water that goes into dairy, making it "by far the best," Hull said. That's because when oats grow in the Prairies, they typically just need rainwater and proper irrigation.
Oats do use up more land than almonds, and it's about on par with dairy, which requires land for cows to graze, Hull said. But the land being used by oats are in the Prairies, which she said typically requires little in the way of removing carbon sinks like forests.
"We're not out to say dairy is bad," Hull said. "It's more about getting more people to eat more plants, and we think that the way we currently eat isn't sustainable, and there's a much better way to do it."
By: Burnaby Now
GuidedBy is a community builder and part of the Glacier Media news network. This article originally appeared on a Glacier Media publication.
Guided By
Location
Topics