Back
Everyone's whipping up dalgona coffee, the viral drink catching tons of buzz
---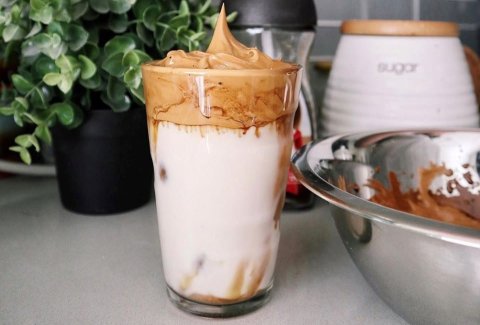 Over the last couple of weeks, you might have noticed people posting photos of an unusual-looking coffee drink. What appears to be a cloud-like caramel-coloured blob rests atop a full glass of milk (or non-dairy milk), waiting to be stirred together to form a surprising - and arm-aching - new viral food trend: Whipped Coffee.
Also known as "dalgona coffee," this DIY drink takes just four ingredients - and some elbow grease - to make.
To make the whipped coffee part, all you need is equal parts instant coffee, hot water, and sugar - typically it's two tablespoons of each. Using a hand mixer, frother, or a whisk and your own strength, beat until the colour deepens to a caramel hue and fluffy peaks form; this should take around five minutes if you're doing it by hand. Scoop onto a glass or cup of hot or cold milk of your choice. Take a photo! Stir, drink, and bask in the glory of having taken part in a global social media food trend.
So where did this whole whipped or dalgona coffee thing come from?
"The drink itself has origins from India, Pakistan, and Macau, where it is also known as whipped coffee or beaten coffee," explains MSN Lifestyle.
"But its surge in popularity happened when it appeared on a Korean TV show called Pyunstorang in January. In it, actor Jung Il-Woo traveled to Macau, tried the drink, and gave it the nickname dalgona for its resemblance to the traditional Korean sponge candy of the same name."
With households across the world starting to "shelter in place" and take on social distancing to take on the COVID-19 virus, the timing was perfect for the trend to hit the web and go viral. People have been spending more time at home and less - if any - time at their favourite coffee shop, so they've been hitting their home kitchens more, and connecting with others online more.
When whipped or dalgona coffee hit TikTok, though, that's when things really took off for the frothy drink.
There are hundreds of thousands of videos on the social media platform tagged #whippedcoffee, with some garnering millions of views.
The photos and videos have also cropped up on platforms like Instagram and YouTube, with everyone sharing their experiences, techniques, recipes, and tasting notes on dalgona coffee.
Over the weekend, I was sufficiently influenced to give it a go. I dug up a rogue jar of instant coffee in my pantry that made its way home with me a few years ago from a trip to France (it's from a big European grocery store - nothing fancy). I ended up doing one tablespoon of each, and whipped it by hand. It took some time, and I wasn't totally sure I was doing it right. It also was kind of hard to move it over into my cup of iced oat milk.
The result... I found it to be overly bitter (though my old instant coffee could likely be the culprit here). Some report a bitter taste to start with a sweet finish, but I had no sweet finish to speak of. The texture of the drink once stirred, which was promised to be like a silky milkshake, was somewhat along those lines.
I'd be down to give it a try again - because let's face it, it's something to do at home to break up the sameness of days.
In the meantime, check out what some Vancouver IGers have whipped up themselves, and give it a try yourself, too. If you need a solid primer on the how-to, blogger Jessica in the Kitchen has a comprehensive run down.
Featured Photo: @missvancityfoodie/Instagram
By: Vancouver Is Awesome
GuidedBy is a community builder and part of the Glacier Media news network. This article originally appeared on a Glacier Media publication.
Guided By
Location
Topics