Back
Profiles of Excellence: Atlas Steak + Fish
---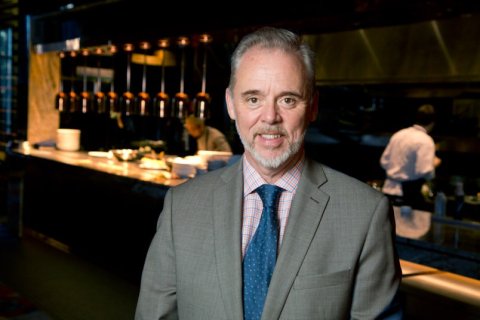 Sponsored Content
Atlas Steak + Fish may be the crown jewel at Gateway Casinos' Grand Villa Casino in Burnaby, but it's only one of a host of impressive gems within the property that are some of the region's best kept dining secrets.
"We really are a true destination, with multiple dining options, along with the hotel and the casino, and so much to offer visitors," said Richard Goodine, food and beverage senior operations manager. "There's everything here from your morning coffee, up to that grand night out to celebrate a big event."
Atlas, a modern and flirtatious approach to the iconic steak house, has been wowing visitors – not just for its food but for the beauty of its setting and the high level of service offered – since it opened its doors a year ago. "It's all in the details", Goodine asserts.
"I've been in this industry a long time and you'll sometimes hear people say that fine dining is dead – but it's not," he said. "The days of pretentious formal dining may be over, but Atlas re-establishes the notion that dining out should be a full sensory experience – a stunning design, distinctive cooking techniques, contemporary menus, professional personnel, and a one-of-a-kind vibe."
The response has been overwhelming, says Goodine: customers are returning as loyal fans, "sharing the secret" with friends and family, and spreading the word that Atlas is the downtown experience in the casual convenience of the 'burbs.
Due to popular demand, Atlas recently expanded the experience to include lunch service and an attractive happy hour.
Goodine says the secret to that success is in the details. In fact, that's the restaurant's tag line.
"It's having those hand-crafted cocktails, a smartly curated wine list, service touches like table-side preparations, exclusive equipment in our kitchen, the dedicated staff, and being focused on every step of the guest journey," he said. "That's the number 1 thing we hear: that people are impressed at the attention to detail."
The challenge now, of course, is to continue to not just meet, but creatively surpass expectations.
It's a good problem to have, says Goodine, and one he and his team are happy to take on – not just in Atlas but across all the dining options at Grand Villa.
The site has a variety of dining and entertainment choices: the Buffet offers weekend brunch and breakfast on weekdays along with lunch and dinner; CHOW Lucky Noodle Bar offers wok-fired options from an open kitchen; Personas Patio + Restaurant + Lounge has drinks and food with live entertainment; Centro Bar, situated in the centre of the gaming floor, has cocktails in the middle of the fun, while Alpina Bar provides wine and small plate choices in a quieter space upstairs
with a great view looking north to the mountains. There's even a Starbucks in the lobby of the adjoining Delta hotel, providing an easy start to the day with a cup of coffee or a place to meet up with friends or co-workers.
"So, we really offer a spectrum of choices, depending on the time of day, whether you're alone or with friends, if you want something quick and casual or a little more elevated in Atlas," said Goodine. "It's a one-stop destination. We want to be the place that people plan to go, where they know they're going to get the best service, and I think we have the people and the dedication to just keep getting better and better."
For more information, please visit their website.
By: Burnaby Now
GuidedBy is a community builder and part of the Glacier Media news network. This article originally appeared on a Glacier Media publication.
Guided By
Location
Topics