Back
Helicopter tours, new restaurants lure B.C. wine tourists
---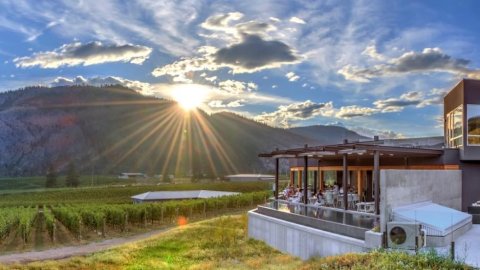 The Okanagan Valley's continuing evolution into a wine-tourism hot spot is on full display this year with established wineries wielding new restaurants and building helicopter pads for extravagant aerial tours costing $13,500 each, and new wineries opening in the downtown areas of Penticton and Kelowna.
The British Columbia Wine Institute (BCWI) in May counted 47 Okanagan wineries that have restaurants – a number that is many times what it was a decade ago. Lake Country's 50th Parallel Estate Winery plans to bump that number up to 48 on May 17, when it opens its restaurant.
The improvements in guest amenities and wider range of options for trips is happening because B.C.'s strong economy is providing winery owners with the capital necessary for enhancements, and the province's booming tourism sector is attracting many wealthy visitors who seek high-end experiences.
"Having so many wineries with restaurants in a wine region is unique," said BCWI CEO Miles Prodan.
"You don't get those in places like the Napa Valley. In Napa, they restrict food sales in wineries. So, in the Okanagan, having 47 wineries with restaurants is really getting up there."
Indeed, the few wineries in the Napa Valley that have restaurants are businesses that were grandfathered decades ago under previous zoning rules, and no wineries may open new restaurants.
Prodan pointed to a second trend of Okanagan wineries opening in city cores, thereby enabling tourists who stay in cities to walk to the wineries and not have to drive or worry about parking.
Longtime B.C. wine entrepreneur Harry McWatters said that he plans to fully open his new Time Winery & Kitchen in downtown Penticton later this month. Last summer, his winery produced wine but was not open to the public.
He held his first wine dinner in his winery's cellar earlier this month and has many more events lined up for later in the summer. The facility has a tasting room that will be open daily from around 10 a.m. to 9 p.m., he said.
"The downtown area of Penticton, and it is still a bit aspirational, but it's becoming an entertainment district," McWatters said. "Within a couple blocks of us are two very good craft brewers. There's a craft distillery and a couple wine bars, and we're three blocks from the beach."
Sandhill Winery has operated a winery and tasting room in Kelowna for about five years, while Ricco Bambino Urban Winery and Garden Bar opened in downtown Kelowna earlier this year.
Wineries located outside of cities are trying new things to appeal to visitors, and some have recently been basking in the glory of winning prestigious international honours.
Liquidity Wines Ltd.'s 2016 Chardonnay reserve wine, for example, won as the world's top Chardonnay in the Chardonnay du Monde competition in France earlier this year.
Liquidity president Ian MacDonald said that he expects the award will lure more tourists to the business.
To help accommodate them, he plans to more than double the size of his tasting room, allowing it to serve 35 people with more than half in a new seating area.
His winery has a restaurant and a VIP residence with its own swimming pool, which he does not rent out, but rather provides for free to top clients and partners and those who provide winning bids at charity auctions.
Starting in June, Liquidity will join Culmina Family Estate Winery and Painted Rock Estate Winery, which also have helicopter pads, with a new promotion for high-end visitors.
The packages sold by Sky Helicopters start at $13,500 and include two nights at the Rosewood Hotel Georgia, a dinner for two at the downtown Vancouver hotel's award-winning Hawks-worth Restaurant, a breakfast and a daylong visit for two to the Okanagan in a helicopter.
Guests get VIP tastings at all three wineries and a lunch at Liquidity's restaurant.
They are also able to customize their helicopter flight by telling the helicopter pilot to, say, linger over an area or to go closer to a lake or other landscape feature, Rosewood Hotel Georgia's director of sales and marketing, Brad Simmons said.
"Our suites that guests would stay in start at $2,000 to $3,000 per night alone, so when you put the package all together it's pretty good value," Simmons said. "Don't get me wrong. Not many people are going to do this, but it is a good opportunity."
– Glen Korstrom, Business in Vancouver
By: Kamloops Matters
GuidedBy is a community builder and part of the Glacier Media news network. This article originally appeared on a Glacier Media publication.