Back
City of North Van approves Shipyards Brewery District
---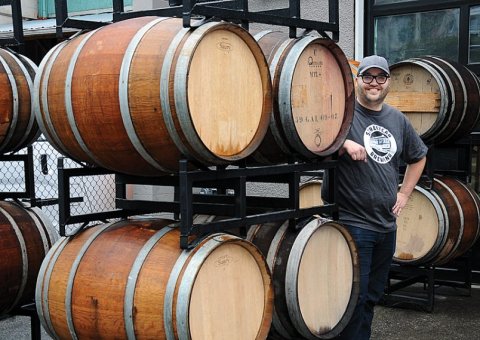 The City of North Vancouver is opening the taps and adding a new "brewery district" to Lower Lonsdale.
Council voted April 15 to rewrite a portion of the city's zoning bylaw to make it easier for a host of new breweries to open lounges in the industrial area east of St. Georges Avenue, along East Esplanade and First Street.
When the breweries are up and running, it should make North Vancouver a craft beer hot spot along the lines of Port Moody's Brewers Row or Yeast Van in East Vancouver, said Simon Koldyk, founder of Streetcar Brewing.
"We're definitely going to be in a similar vein and we're going to try to be another beer destination," he said. "You're going to be able to walk to every brewery and get a flight and try us all out."
So far, just Beere Brewing is operating in the area. But before the summer is out, Streetcar and House of Funk Brewing are slated to join. Two others are in the pipeline but don't have opening dates set.
Under the old zoning bylaw, customers visiting breweries' tasting rooms were limited to 125 millilitres per serving and 375 millilitres per day. Rather than process individual zoning amendments, which can take upwards of two years, council instead sought to cut the red tape and rewrite the bylaw to allow lounges as a permitted use. The lounges would be capped at 80 square metres (enough to seat about 50 guests). Under the new zoning, a brewery must still get a liquor licence from the province, and an endorsement from council.
Citing broad support in the community, council voted earlier in the month to wave the normally required public hearing. When it came time to vote, council had received two written submissions of support, including a 1,254-name petition, and one letter of concern.
"We saw the community behind us and we were really happy with that," Koldyk said.
Only Coun. Don Bell voted against the proposal. Bell agreed it was unrealistic for the breweries to be limited to 125-millilitre servings, but, he said, the rule change would give the brewers a competitive advantage over traditional pubs, which face more stringent regulations, and a cluster of craft beer lounges could lead to a hangover of a different sort.
"I'm in favour of brew pubs. I think they provide a unique character to our community where they are. My concern is creating a lot of them in one area. … My concern is the potential impact on the neighbours from the noise factor. I think we're going to have to watch that very carefully based on problems that we've had with some of the existing pubs in the area," he said.
Mayor Linda Buchanan, however, said the proposal is just what Lower Lonsdale has been thirsting for.
"I think this is going to be a good addition to our community. They've been doing great work so far and this is just going to add to the vibrancy down in the Lower Lonsdale area so I am fully in support of this," she said.
Koldyk said Streetcar should be open for growler fills and flights by mid-May. But, he said, the province has warned him it could be another six months before their lounge application will be processed.
By: North Shore News
GuidedBy is a community builder and part of the Glacier Media news network. This article originally appeared on a Glacier Media publication.
Guided By
Location