Back
Want your child to keep their brains moving this summer? Try this
---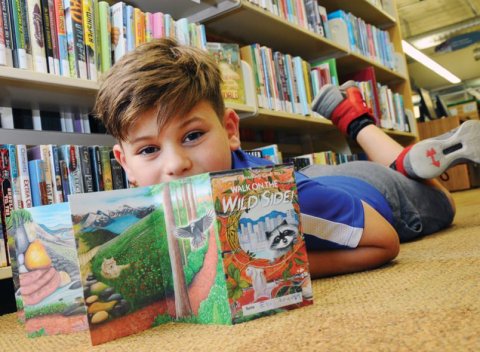 With school officially done for summer, kids ages 5-14 have the opportunity to participate in the BC Summer Reading Club - a fun, free, and inclusive literacy program offered by public libraries in more than 200 communities throughout B.C.
"Programs like the BC Summer Reading Club help kids build their confidence in reading, while having fun and building stronger connections with their public libraries," said Rob Fleming, Minister of Education. "These programs are truly making a difference in the lives of children and their families, helping build literacy skills today that will help them succeed in the future."
The BC Summer Reading Club runs every year from July to August and reaches over 163,000 kids. This program motivates students to discover what their local libraries have to offer, while encouraging them to track their reading progress. Kids who read regularly throughout the summer may earn a medal or prizes. Participation is easy - kids can read whatever they wish, including story books, information books and even comic books, in whatever language they feel most comfortable. They can also listen to someone else read or tell stories.
Each year, a B.C. illustrator is selected to create the artwork that celebrates a new theme for the club. This year's featured artist is children's book illustrator Jami Gigot and the theme is "Imagine the Possibilities!"
"The BC Summer Reading Club provides a fantastic opportunity for children to maintain critical reading skills over the summer and to begin a profound, lifelong relationship with experiential learning in their library and community," said Cynthia Ford, provincial co-ordinator for the BC Summer Reading Club. "B.C. libraries do an incredible job of ensuring the program meets the specific needs of their community and invite all children and their families to Imagine the Possibilities!"
The BC Summer Reading Club is co-ordinated by the British Columbia Library Association, which distributes posters, bookmarks, reading records and medals to B.C.'s public libraries. BC Summer Reading Club materials and programs are available in several languages through public libraries.
People can learn more about BC Summer Reading Club activities in their local community by visiting: www.bcsrc.ca
Quick Facts:
* The BC Summer Reading Club is sponsored by the British Columbia Library Association and public libraries, with support from the Ministry of Education's Libraries Branch and CUPE BC.
* The BC Summer Reading Club has been in operation for almost 30 years.
* In B.C., there are 71 public libraries, 247 service locations and six library federations, serving 99% of B.C.'s population.
* Studies suggest that children who engage in play-based learning develop important literacy and social skills, setting them up for future success.
By: Burnaby Now
GuidedBy is a community builder and part of the Glacier Media news network. This article originally appeared on a Glacier Media publication.
Guided By
Location
Topics