Back
Young entrepreneurs put book and business smarts to practical use
---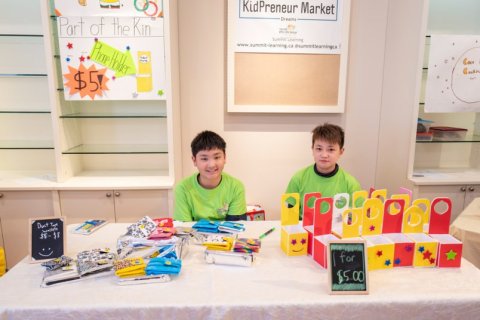 Sponsored Content
School may be out for the summer, but Richmond's Summit Learning is offering young students a chance to put their book smarts to practical use through its Young Entrepreneur Programs.
"We offer programs that do not have the typical academic focus, such as math, reading or science," says Kristine Lim, Summit Learning's program director. "We wanted to provide more wholistic programming."
The goal is to get students, aged seven to 15, to use their knowledge in a real world setting to create their very own business.
"Not all kids grow up knowing what it's like out there in terms of practical experience," Lim says. "For example, they may be really good at math but don't have the opportunities to properly apply it.
"They may have all the multiplication tables figured out, but once they are at the grocery store they may not be able to use that knowledge to figure out the best deal on a product."
Summit Learning also provides an opportunity for students to discover what their passions are and how that could be transformed into a business.
"Some kids maybe go to cooking school or art classes and never translate what they are capable of producing as something they could possibly sell through a business that they develop and run themselves," Lim explains.
Once the students choose what their business will create, they produce a brand name, logo and go about marketing their ideas and products.
"They also come up with their own product prototypes," Lim says, adding some of the items from past young entrepreneurs have included baked goods, slime for playtime fun and even wind chimes made from recycled materials.
All through the process they receive feedback from fellow students and instructors - who come from a variety of teaching backgrounds.
"We not only teach students about business, but to communicate with other people by way of customer service and learning how to accept constructive criticism," Lim says.
The program culminates with a special market day when the goods produced by the various businesses go on sale to the public.
"Overall, we want to teach youngsters important life skills they can apply to any career choice, in any economic environment," Lim says.
For more information on Summit Learning's educational programming or to register for summer classes, visit summit-learning.ca, email info@summit-learning.ca, or call 604-238-6951.
By: Richmond News
GuidedBy is a community builder and part of the Glacier Media news network. This article originally appeared on a Glacier Media publication.
Guided By
Location
Topics