Back
EDITORIAL: Squamish memories of first jobs
---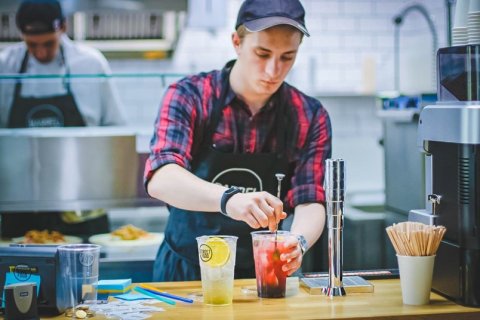 Summer is here and for many Squamish youngsters that means taking on their first real paid work.
First jobs can be fun as heck, transformative, or hell, but they impact us in some way, nonetheless.
The Chief asked well-known locals about their first jobs.
Louise Walker, the executive director of the Squamish Chamber of Commerce worked at Loudoun Castle Theme Park.
"Think PNE but on the grounds of a ruined castle in the Scottish countryside," she said. (The park is now shuttered and features online as an abandoned theme park.)
The Sea to Sky Gondola's Kirby Brown recalled a summer, when he was 14 years old, working as a tour guide at the Fisheries Museum of the Atlantic in his hometown of Lunenburg, Nova Scotia.
He met people from all over the world, he said. "They hired retired fisherman to tell tales to tourist and show us how they worked the boats. For a small town kid it was pretty cool," he recalled.
Coun. Jenna Stoner recalled that after many summers of setting up lemonade stands along the Whistler Valley Trail, her first official job — at 13 years old — was working at Whistler Bungee Trampoline.
"I'm pretty sure I got sunstroke a few of the days being out there and learned the importance of wearing a hat, but I have nothing but fond memories of working outside, making good friends, and hitting the lake on my bike ride home after work," she said.
While not his first job, Coun. Chris Pettingill recalled a summer working on a mushroom farm, while at the same time being in a relatively-successful teen cover band. The drawback of the former was that he couldn't escape or wash off the smell of manure, he said.
Coun. John French's first job was 1986 at the District of Squamish outdoor pool as a lifeguard. The pool was located to the east of the Howe Sound Secondary main gymnasium. It is now a parking lot.
Former mayor Patricia Heintzman worked first as a camp councillor at camp Tanamakoon in Algonquin Park, in Ontario.
It was a great first job, she said working outside, living with others and learning other life skills.
Bianca Peters' had a more unusual first job.
During her last year of high school she worked for her mom's then-fiancé as a bookkeeper and "Girl Friday" for his Jokers Social Club on the second floor of the Ramada Inn on West Broadway in Vancouver.
It was a 10-table poker club before gambling in B.C. was regulated, she recalled.
"Although I was too young to legally play at the tables, I met a lot of interesting characters," she said.
For those just starting their first summer job, let these stories give you solace and hope for your future to come.
And yes, we would like fries with that.
What was your first job? Share your stories with us by emailing editor@squamishchief.com.
By: Squamish Chief
GuidedBy is a community builder and part of the Glacier Media news network. This article originally appeared on a Glacier Media publication.
Guided By
Location
Topics