Back
Get artistic with Squamish summer camps
---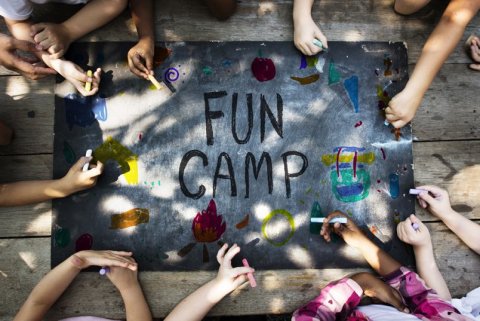 When the school year ends and it's time to pack the kids off to summer camps, what most people think of are sports and recreation-based outdoor camps.
But there are plenty of spaces for young artists, dancers and thespians to flex their creative muscles over the summer, get some well-deserved focused attention, and even work on portfolios and develop budding artistic careers.
Quest University student Jacob Richardson has attended summer camp for over half his life — 11 years as a camper and he is going back June for his fourth year on staff at an Ontario camp.
"It has been rather a large part of my life," he told The Chief.
"What I see kids get out of camp so much is a combination of social skills and emotional maturity that I wouldn't expect," Richardson said.
Richarson said that returning campers seem to get the most out of the experience.
In his role as camp councillor he has gotten letters from parents who talk about how children have been much more responsible at home after attending camp.
Being out of the routine of home and with people who have different ways of doing things seems to cause kids to mature faster than if they are at home, hanging out with friends or doing family activities, he said.
Not all kids want to go to the beach or play a team sport, something many camps are geared at, so it is important to find a camp that suits the child's passions.
"The camp that I went to and now that I work at has a musical three times a summer," he said. "And that is the thing I most looked forward to of anything at camp."
The Sea to Sky has plenty to offer in terms of engaging camps for the less sports-oriented youth.
Every summer, the non-profit Artists for Kids hosts the Paradise Valley Summer School of Visual Arts, for art-aspiring youth ages 8 to 18.
The week-long, studio-based camps feature visiting professional artists who guide small groups through interpretive workshops. Students experiment with many different types of media including painting and printmaking and will benefit from in-depth instruction with a focus on individual skill development.
"I don't know of many other summer art programs that are run with that professional established artist," says camp co-ordinator Daylen Luschinger.
"It gives young people an opportunity to interact with them, be mentored by them, and get the chance to approach, and ask questions that they wouldn't get otherwise."
This year the visiting artists are mixed-media painter Vanessa Lam, and Vancouver painter Tiko Kerr.
Studio time is balanced with outdoor recreation time such as kayaking, canoeing and Plein Air creating.
Participants will leave the camps with valuable new skills and finished pieces to add to their portfolios.
Scholarships and bursaries are available, too.
Closer to downtown, once again, the Squamish Academy of Music is offering its Broadway or Bust Performing Arts summer camps.
The popular program features two musical theatre camps — a one-week camp and a three-week camp, that develop aspiring thespians' singing, dancing and acting skills. Camps are taught by experienced performers and teachers, who guide students through auditions, vocal training, monologues, choreography and more.
Camps culminate in a mini-musical for the one week camp and a full musical production for the three-week camp, both performed at the Eagle Eye Theatre in Squamish.
Both camps are already full, but waiting lists are available.
For the passionate budding artist, Happimess art centre runs day camp classes all summer, and offers the convenience of punch cards for regulars that can be used by family members and friends.
Week-long themed camps run from July 2 to August 16, and themes include Love Where You Live and A Touch of Fantasy; there is even a fashion and costume design week.
Kids are guided at their own pace with older kids being encouraged to explore their skills further, and while groups work on the same projects, individual needs are attended to according to each child. Younger/older child interaction is encouraged, as age groups are not segregated.
Ages five to 12 is suggested, and younger siblings can be registered at a lower rate.
If dance is a child's thing, the Squamish Dance Centre is now accepting registration for their many day camp offerings this summer.
Kids from ages three to 12 are welcome at multiple day-long acro camps, ballet camps, and mixed-style camps; most require previous dance experience.
A bit further afield, but worth the drive, the Audain Art Museum in Whistler offers a variety of day camps to appeal to the artist in your family.
From early July to late August, the Museum, located in Whistler on Blackcomb Way, offers three camps to six to thirteen-year-olds.
Creative minds will be challenged at workshops with focus such as colour theory and portraiture. Children will interpret art and nature, have the opportunity to create their own works, including paintings, collage and sculpture. An architecture camp will even see children designing their own buildings and making models.
Parents can opt for five-day camps or just pay for single days. Whichever the camp, kids are sure to come out with stories to tell for back to school.
By: Squamish Chief
GuidedBy is a community builder and part of the Glacier Media news network. This article originally appeared on a Glacier Media publication.
Guided By
Location
Topics