Back
PARENTING TODAY: Summer camp should be a break from parents
---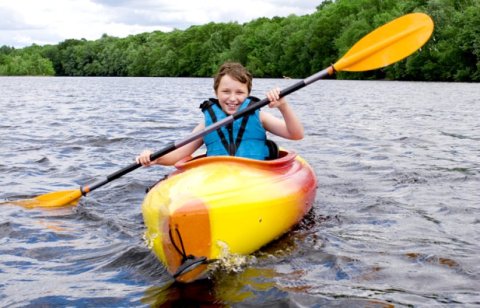 Summer camp offers kids experiences they will not find elsewhere, and I am a big fan.
This is not surprising because research shows that 90 per cent of people who went to a residential camp also send their children.
Being that my husband and I were childhood campers and counsellors, you can bet our kids attended.
I would add that camping helps children to move along the road to being capable adults. In my book, But Nobody Told Me I'd Ever Have to Leave Home, I say: "summer camp … is a golden opportunity for our children to develop independence.
Camp is great because it's designed to meet the developmental needs of your children, with challenges and opportunities appropriate to their age."
On the B.C. Camping Association website, they note that at camp kids will build healthy relationships with peers and adults, develop confidence and learn to solve problems. Most importantly, they will make wonderful friends and have fun!
The question is whether your child is ready for summer camp, particularly a residential experience.
The biggest consideration is whether he has been away from you overnight before and how he handled that. If he is the kid who calls you from every sleepover to come and get him, he may not be ready. If he revels in being away and experiencing sleeping at other places, he will love camp.
Is she adaptable and comfortable in different social situations? If you know that she will enjoy camp but might have difficulty settling in, have her go with a friend. That makes it so much easier for both of them. They will meet new kids but will have one friend right from the start.
Does he want to go to camp? Certainly, if he's heard about summer camp and how much fun it is and is excited, it's time to get ready for registration.
Now, there's the question of choosing a camp.
Well, here in B.C. that's relatively easy.
Go to the B.C. Camping Association website (bccamping.org) where they have a handy list for you to check off the regions and activities you want and voila! a list of camps appears.
The B.C. Camping Association also offers an accreditation program which is described in detail. This gives you the reassurance that the camps on their list have been vetted and are safe for your children.
Summer camps for children come in many forms. There are day camps, there are camps associated with clubs and organizations such as Girl Guides, Scouts Canada and Navy League, specialized sports camps, church camps, academic interest camps, health-related camps and wilderness camps.
There's something for every interested child but the trick is finding the right camp for your child.
Once you have chosen a camp, be sure to attend the parent information night. Talk to the staff. Ask about the camp philosophy. Ask them to walk you through a typical day.
Good camp people love to talk to parents, and you can get a sense of the camp by asking questions. Trust your instincts. Does this sound right for your child? If they don't want to talk to you or they hedge, find another camp.
The most consistent complaint from parents about camp is the religious content in the program. Children sometimes come home from camp talking about being "born again" or about daily Bible study.
If you don't want this for your child check out the program and ask the staff what kids learn at camp. Listen to the description of the day's activities and choose accordingly.
In recent years, some camps have installed video cameras so parents could keep an eye on their kids. It may sound great, but I'd avoid such a camp.
For kids, the whole point of going to camp is to have a chance to succeed away from their folks.
If they know their parents are checking them out online every day, they may as well be at home.
Choose the right camp. Do your homework. Then let your child go.
Kathy Lynn is a parenting expert and author of Vive la Différence, Who's In Charge Anyway? and But Nobody Told Me I'd Ever Have to Leave Home. If you want to read more, sign up for her newsletter at parentingtoday.ca.
By: North Shore News
GuidedBy is a community builder and part of the Glacier Media news network. This article originally appeared on a Glacier Media publication.
Guided By
Topics