Back
Fire safety tips for the Christmas holiday season
---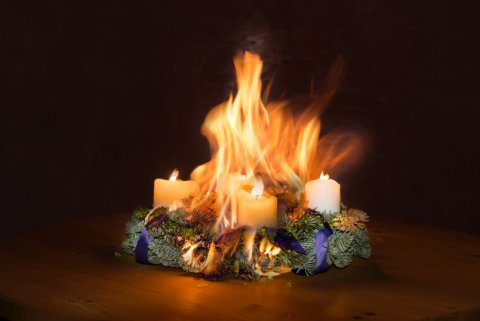 Holiday fires cause injuries, death and thousands of dollars in property damage every year, and the Office of the Fire Commissioner and Emergency Management B.C. want to remind you how to stay safe.
While households should have some safety preparations in place, there are extra life-saving precautions recommended over the holiday season to prevent fires.
For decorations
It doesn't matter if you prefer real or plastic, Christmas trees are combustible and need to be kept away from heat sources. That goes for wrapping paper and decorations, too. There are flame-retardant and non-combustible decoration options out there.
As well, those twinkling strands of Christmas lights can't all be trusted. Use lights that have been tested and certified by Canadian Standards Associations (CSA). Another option is energy-efficient LED lighting that produces less heat and poses less of a fire risk.
Certified timers are a great way to schedule pre-set on and off times for incandescent decorative lights on the tree. Remember, decorative lights should be turned off before leaving the house or going to sleep. You aren't enjoying their beauty when you're asleep or away.
Make sure outlets aren't overloaded, especially when more lights and decorations are plugged in.
If you did take the extra effort to go get a real tree, remember to water it often to keep it fresh and dispose of it safely.
For dinner
Stovetop fires start quickly. Do not leave anything that is cooking unattended, and ensure anything flammable is safely away from the stovetop. This includes tea towels, wooden or plastic utensils and paper towels.
Keep a pot lid near the stove to smother flames if a fire starts in a pot.
A kid-free zone away from the stove and food preparation area is also recommended for extra safety.
For candles
Never leave a lit candle unattended.
Make sure candle holders are sturdy and placed on stable surface and away from anything combustible such as curtains.
Only non-combustible containers for tea lights and votive candles are recommended. Battery-operated candles are another option.
Lit candles should be kept away from children and pets.
For smoke alarms and more
Check all smoke alarms, and make sure they're working and present on every level of the home and outside each sleeping area.
Test and clean smoke alarms regularly and change the batteries at least twice a year.
Developing a fire safety plan is important, but it also needs to be practised in case of a fire. There should be two ways out of every residence and remember to share this plan with your guests.
Double-check where the decorations are placed. They shouldn't be blocking any exits in case of an emergency.
For more information on how to get prepared, visit gov.bc.ca/PreparedBC
By: New West Record
GuidedBy is a community builder and part of the Glacier Media news network. This article originally appeared on a Glacier Media publication.
Guided By
Location