Back
This B.C. suspension bridge soars 2,000 feet high in the mountains
---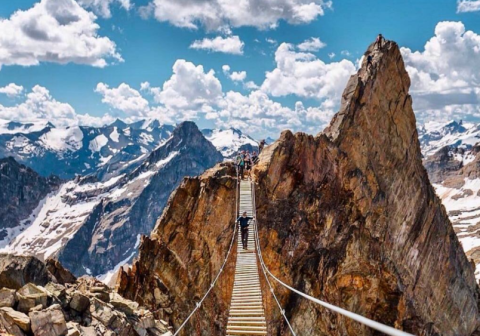 If you feel intense trepidation upon crossing the Capilano Suspension Bridge, the Mount Nimbus Suspension Bridge might not be for you.
Soaring nearly 2,000 feet high, this statuesque crossing rests on two peaks of the breathtaking Mount Nimbus.
It is located near Golden, British Columbia, and requires a helicopter ride to visit. Following this, adventurers must make a 2.5 km hike through the mountains.
Not an expert mountaineer? No problem: this alpine adventure doesn't require climbing experience. With that being said, it is recommended that visitors are in good physical condition.
The Great Canadian Bucket List describes how, "This is mountain climbing for the rest of us, safely clipped into iron rungs 1000m above the ground, onto steel rope across a 60m long suspension bridge." Of course, this statuesque crossing tends to sway, so it isn't for the faint of heart.
Once adventurers are there, however, they are in for a treat. Mount Nimbus is located in the stunning Purcell Mountain range – a dedicated UNESCO World Heritage Site – which offers panoramic views of the sprawling alpine oasis in every direction.
In addition to awe-inspiring views, visitors will also be privy to a lavish stay at the Bobbie Burns Lounge. Groups are then helicoptered off to a valley near the bridge where they will begin their hike.
The lounge comes equipped with 26 guest rooms, as well as:
Bar and dining room
Climbing wall
Games room
Ski shop
Massage
Wine tasting
Outdoor whirlpool and sauna
By: New West Record
GuidedBy is a community builder and part of the Glacier Media news network. This article originally appeared on a Glacier Media publication.
Guided By
Location
Topics