Back
Whistler Wellness
---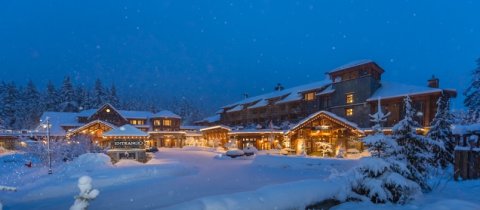 Need to hit the reset button? Head to Whistler.
Many of us associate Whistler with exhilarating outdoor activities: skiing and snowboarding in the winter, or hiking, ATVing and bike riding on its network of trails in the summer.
But a recent weekend away, which was more about chakra-aligning massages than mastering moguls, involved not a moment of physical activity (save for a quick morning walk around a local lake), proving that Whistler is indeed a destination for the spa set.
The relaxation began with the journey itself, where my travel mate and I reclined in the seats of a Pacific Coach instead of navigating the sometimes-stressful Sea to Sky Highway ourselves. Resting my head while taking in the majestic views of the Coast Mountains and glittery Howe Sound, I could literally feel the stress of city life melting away as I looked forward to the upcoming weekend. Next time, for variety, I will book a seat on the Rocky Mountaineer train, which drops passengers off at the lobby of the Nita Lake Lodge hotel.
Nestled alongside the pristine glacier-fed Nita Lake in the cosy Creekside neighbourhood, Nita Lake Lodge is a self-contained mountainside paradise. Built in 2008, Whistler's only lakeside hotel features 77 rooms, all with fireplaces, king-size beds, plasma TVs, hideaway kitchens, bathrooms with slate-bottom showers and heated slate floors and soaker tubs—and many with lake views. The boutique-style hotel is located just 500 metres away from Whistler's Creekside Gondola, but that may be a moot point because with so many on-site activities and amenities available, you may not feel the need to leave the lodge.
After check-in, the weekend began as any respectable spa getaway should: with cocktails featuring florals from the hotel's rooftop garden, and a selection of appetizers—charcuterie, farm cheeses and house-made pickes—made using local and organic ingredients from the revamped menu at the recently renovated lakeside Cure Lounge and Patio. With wooden beams, a large fireplace and stunning views of Nita Lake and Sproatt Mountain, it provided a modern-rustic atmosphere in which to unwind after a busy workweek.
The next morning, we awoke to the sound of birdsong and reflections from the sunlit lake streaming through my bedroom's toile drapes. After a lakeside coffee on the room's adjoining terrace, followed by a breakfast Potato Herb Hash made using Pemberton potatoes, B.C. mushrooms and sauteed kale at Aura restaurant, my travel mate and I enjoyed a brisk walk alongside Nita Lake on the pathway which connects to Whistler's 40 kilometre Valley Trail. We then spent the afternoon soaking away our stress through a hot-cold-relax water therapy experience at the picturesque Scandinave Spa, set amidst a peaceful forest with breathtaking mountain views. After a few hours soaking in the outdoor hot baths and cold plunge pools, and lazing in the eucalyptus steam rooms, saunas and relaxation areas, we had achieved complete Zen and were ready to be transported back to our hotel.
Back at the resort, an adorable and frisky Brittany Spaniel, belonging to the hotel's owner, greeted us in the lobby (yes, Nita Lake Lodge is 100 per cent dog-friendly). By this time our stomachs were starting to rumble and we began looking forward to our 7 p.m. reservation at Aura restaurant.
After a dinner of Kale and Quinoa Salad followed by a Mushroom and Lentil Pavé paired with rosé prosecco (again, with those lakeside views), it was time for bed. After all, I needed to rest for the signature massage treatment that was booked for the following day at the hote's spa.
The Kundalini massage, which took place in one of six serene rooms at The Spa at Nita Lake Lodge, is a treatment unlike any other. Based on ancient massage techniques with a focus on the back of the body as well as the face, the treatment uses Himalayan salt (to exfoliate the feet), marigold and lavender petals, organic ila Argan oil and rose damask oil, and hot stones. All movements are timed to music and are designed to realign the chakras, rejuvenate and reset, which is exactly what was needed after a string of deadlines at work. I left the room feeling much lighter, but also more grounded, than I did going in.
Post-massage, spa patrons are invited to relax in the lounge area or in the steam room but we opted instead for (another) soak in the spa's adjoining outdoor hot tub area while admiring snow-capped Whistler Mountain towering in the distance. Walking (or you could call it "floating") back to our room to pack for the journey back to the city, we considered booking a spot in a class at the on-site yoga studio, Loka Yoga, but our hunger won out and we enjoyed a cleansing and nourishing "spa" wrap packed with rice noodles, peanut sauce and vegetables along with a spicy coconut tomato soup and almond milk latté on the patio of the resort's Fix Café instead. A healthy end to a soul-soothing weekend.
Nita Lake Lodge is located at 2131 Lake Placid Road, Whistler. 604-966-5700, nitalakelodge.com
By: North Shore News
GuidedBy is a community builder and part of the Glacier Media news network. This article originally appeared on a Glacier Media publication.