Back
New 1.6-km trail highlights nature surrounding Capilano University
---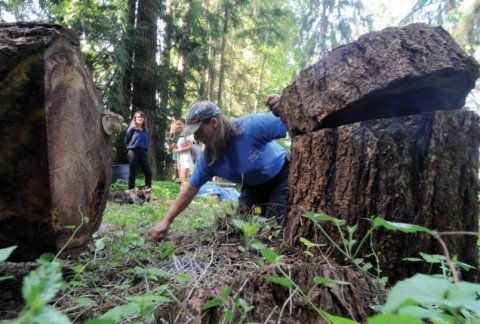 On a warm, late spring day, Daisy sniffs around the undergrowth. Capilano University biology instructor Rachel Clearwater's dog has done the tour enough times, she could walk it with her eyes closed. Most two-leggeds, however, are only just getting their first chance to walk the CapU 50 Trail.
Since the spring, a group of Capilano University staff and student volunteers have been cutting paths and making connections to create a 1.6-kilometre trek passing through and around the campus's most bucolic spots.
The idea had been kicked around for a number of years by EarthWorks, a club of students, faculty and staff who promote environmental learning and sustainability on campus, but it was only recently that the project was funded as part of Capilano University's 50th anniversary celebrations.
"The idea is the trail will highlight sustainability, nature and culture, and Indigenous history," Clearwater said.
Using the community garden outside the Bosa Centre for Film and Animation as the starting point, the trail cuts through a piece of wetland separating the campus from its northern parking lot. Over the years, it had been filling up with garbage and invasive species, most of which are gone now.
"It's been 10 years of invasive species pulls and planting native plants. It's an ongoing thing. I think I'm here for another 25 years," said Jo-Ann Cook, CapU's groundskeeper, while uprooting some ivy.
"It's still a pretty functional wetland. Part of our project in building this trail was to create access for restoration," Clearwater added.
From the wetland section, the trail spits out on Monashee Drive, where hikers can get on the Seymour River Regional Greenway then back to the campus's West Walk.
Clearwater and her colleagues brought in a trail-building consultant and the North Shore Mountain Bike Association's trail academy members, who trained a team of students and volunteers to cut new paths over three trail-building days.
It was no small effort getting consensus from all the potential user groups and stakeholders on how the trail should look and feel. The outdoor rec program was keen on building trails and outdoor classrooms. The early childhood education faculty wanted to keep the forests as natural as possible, in keeping with their curriculum, Clearwater said, and biology students see the outdoors as a place to carry out scientific surveys.
But it produced a something-for-everyone result.
The trail is short enough that students or staff could walk it between classes, allowing them "to de-stress and have the health benefits of a fresh air break and an ability for forest bathing," Clearwater said.
Faculty are already making plans for "place-based learning" along the trail, which could be anything from building bat boxes and birdhouses to identifying and pulling invasive species.
And, it promotes the school's mandate to incorporate Indigenous knowledge into the academy.
"Any time you're able to bring these students out to see what this landscape is really like and what it was like traditionally, there are opportunities there for Indigenizing the education," Clearwater said.
The CapU 50 Trail will have its grand opening on Sept. 19, when it will be incorporated into the human kinetics annual program's back-to-school walk, although it's open to anyone who wants to hike it.
And word is getting out. Midway through the tour, Capilano political science instructor Tim Schouls emerges from the tall grass.
"It's such a great thing to be able to walk away from my desk. It's this lovely little walk in this setting and then back to work. It's perfect," he said. "[I feel] rejuvenated, restful, peaceful – ready to get back at it."
Anyone who would like to contribute a few hours to pulling Himalayan blackberry or planting native species is asked to contact Clearwater through the university.
By: North Shore News
GuidedBy is a community builder and part of the Glacier Media news network. This article originally appeared on a Glacier Media publication.
Guided By
Location
Topics