Back
Vintage hotels double as city tourist attractions
---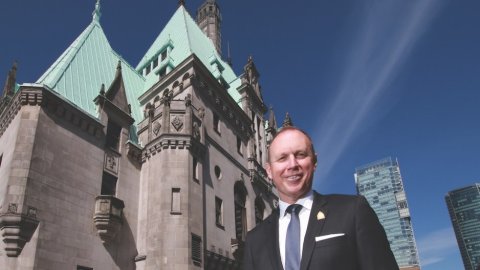 Hotels that have been around for 80 years or more can cost a fortune to keep in good condition, but owners say they are proud to maintain them to a standard high enough that they serve as tourist attractions in their own right.
The necessary cost of investing to maintain hotels extends to newer hotels, said David Ferguson, who is a director at CBRE Inc.'s hotels valuation and advisory services group in Canada.
"Hotels reach points where they require capital upgrades that aren't necessarily a touch-and-feel upgrade that a guest can appreciate," he said.
"When you talk about electrical systems, roof, or plumbing or piping repairs – replacing boilers and things like that – that's one of the challenges the hoteliers face."
Vancouver's high hotel room occupancy also makes it a difficult decision for hoteliers because such repairs could shut down part of the hotel, meaning less revenue in addition to higher expenses.
The Fairmont Hotel Vancouver is not the oldest hotel in the province, or even the city of Vancouver, but it is the oldest hotel by far among Vancouver's large hotels.
With 567 rooms, that hotel – which turned 80 years old this spring – ranks No. 3 on Business in Vancouver's list of largest hotels in Metro Vancouver and Whistler, which was released this week. It is several times larger than the 155-room, 92-year-old Rosewood Hotel Georgia, which is a block away.
The oldest hotels in the city are even smaller, as could be expected.
The 107-year-old Sylvia Hotel, which soared above English Bay when it was built, has 120 rooms, including rooms on the eighth floor in space that was a restaurant until 1962, owner Jill Davies told Business in Vancouver.
(Image: The Sylvia Hotel is the oldest existing hotel in the city of Vancouver | submitted)
The 106-year-old St. Regis Hotel Vancouver, in contrast, has declined in size. Owner Rob Macdonald completely refurbished the hotel after he bought it a couple of decades ago and reduced the room count to 65 from 74 to make the rooms larger.
For Fairmont Hotel Vancouver general manager Adam Laker, the secret to longevity is "keeping up with trends" and trying to stay ahead of competitors.
"We've refurbished a lot," he said. "We've rebuilt nearly the whole hotel inside."
Laker said operating a hotel where guests have high expectations comes with opportunities and challenges.
The opportunity is to land guests who want to stay in the hotel for its historic look and significance. The challenge is to fulfil high expectations.
Renovating rooms is also more challenging for a historic hotel because the update has to strike a fine balance between having a traditional look and a modern feel. That challenge does not exist with a new hotel because owners get to start with what Laker called a clean slate.
The Fairmont Hotel Vancouver has held its value. West Vancouver-based Larco Investments Ltd.'s hospitality arm bought the hotel for $180 million in May 2015 from Ivanhoé Cambridge, after outbidding fellow British Columbians Nat Bosa and wife Flora Bosa. The Bosas, the previous year, spent $89.9 million to buy what is likely B.C.'s oldest existing hotel, the 111-year-old Fairmont Empress, in Victoria, from the Caisse de dépôt et placement du Québec pension fund.
Nat Bosa told BIV that the real cost of that acquisition was substantially higher. He wound up spending more than $65 million on renovations, after first budgeting around $30 million for that work.
"I don't regret one nickel that I spent on it," he said. "When I bought the hotel, it was an embarrassment for the condition it was in."
He first closed and renovated about 245 rooms, before then closing the remaining 220 rooms for renovations. He still plans to renovate part of the hotel's roof but otherwise the project is done, he said.
"It's like the Château Frontenac hotel in Quebec City," he said. "It's out in a league by itself. You go to Quebec, and if you're a tourist that wants to go and see places and stay in places, chances are that you will go to the Frontenac, and not the Hilton, if you have the money."
While Bosa believes that the renovations have helped him fill the Empress and charge more for room nights, he contracts the Fairmont to manage the facility.
Other historic B.C. hotels do not have management contracts with multinational operators.
Davies is a hands-on owner at the Sylvia, where she said maintenance projects are an ongoing concern. Her goal for this year is to finish a two-year plumbing upgrade.
At the St. Regis Hotel Vancouver, Macdonald has his own management staff.
The multinational brand St. Regis, which is owned by Marriott International Inc. (Nasdaq:MAR), tried to shut him down by claiming to own the St. Regis name. He countered by telling them that the hotel had been named St. Regis since 1913.
(Image: Density from Vancouver's St. Regis Hotel was transferred to the Hudson Building above Granville Skytrain station in a transaction that saved its existence | Glen Korstrom)
"We had a legal tussle on that," he remembered. "They lost. I won. So I now own the right to use the St. Regis brand for the whole Lower Mainland. I gave up to them the rights to use the brand outside the Lower Mainland. That's how we settled that. They paid me."
While Macdonald is now proud to own the hotel, his original intention when he bought the hotel was to knock it down. He was accumulating all land in the block bounded by West Georgia, Seymour, Granville and Dunsmuir streets except the Hudson's Bay Co. (TSX: HBC) property, and he intended to build two office towers.
Negotiations with the city, however, led him to build the Hudson Building above Granville SkyTrain station, and include an accessible elevator at that station for the first time.
That project was executed thanks to him transferring density to the Hudson from his St. Regis property, and neighbouring Gotham Steakhouse & Bar.
He then kept the St. Regis' facade and spent $11.5 million to completely rebuild its inside. •
By: Business in Vancouver
GuidedBy is a community builder and part of the Glacier Media news network. This article originally appeared on a Glacier Media publication.
Guided By
Location
Topics