Back
Escape to Whistler
---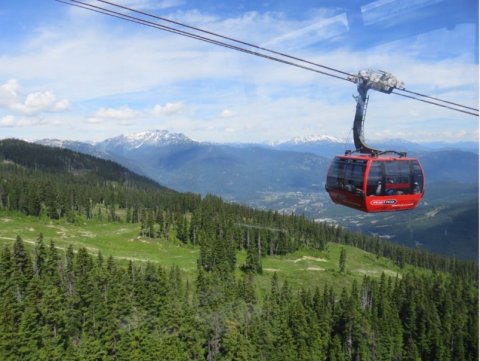 Handcuffed inside a jail cell, joined by my husband, his daughter and her family, we began a frantic search for the keys we knew were hidden somewhere within reach — but where to start? Luckily it was nine-year old Sophia who came to the rescue and found a ring of keys hanging from a rope hidden from view and soon we were free of our shackles. But then it was time to search for clues that would help release us from the small cell we were locked in.
What led our small group, including my daughter-in-law, her husband and two of our grandchildren, Lochlan and Sophia, to be locked in this small room was not the result of any wrong doing on our part, but instead we were attempting to beat the Pirate Ship room at Escape! Whistler in the heart of Whistler Village. Other rooms include the Pinball Machine, Buried Cabin and the Rabbit Hole.
What separates Escape! Whistler from similar attractions is that kids can take part without fear of a deranged serial killer waiting to leap if they don't escape on time. Tip: Anyone with accessibility issues will want to check with the team at Escape! Whistler to decide which room is best for them.
We were visiting Whistler on a gorgeous May weekend and the sun had locals and visitors flocking to patios and for some of the last ski and snowboard runs of the season, which meant instead of the usual ski suits we saw a lot of Hawaiian shirts and shorts on the guys and bathing suits on the women.
Our Whistler grandkids excel at all mountain sports, including skiing, snowboarding and mountain biking, but with us (the grandparents) in town for the weekend we looked for alternative activities and quickly discovered there's lots to do when it comes to multigenerational travel. So besides golfing, tennis, cycling and water sports, here are a few suggestions for spring and summer activities the whole family will enjoy during a weekend getaway in Whistler:
What to do
Peak 2 Peak 360 Experience
This gondola ride gives you access to more than 50 kilometres of hiking, running and interpretive walking trails. Once you reach the top, visit the 2010 Olympic and Paralympic Games display inside the Roundhouse Lodge and then choose from five different restaurants for a meal or drink. Visit whistlerblackcomb.com.
Audain Art Museum
The permanent Emily Carr and Art of B.C. collection is reason enough to visit this spectacular museum, but special exhibits take it to a whole other level. We were lucky enough to be there for Beau Dick: Revolutionary Spirit, a critically important historical project featuring the works of this artist who was deeply rooted in the traditions of his Kwakwaka'wakw First Nation. Tip: Double the amount of time you expect to spend at the museum — you won't regret it. Free Walk and Talk tours are offered Wednesday through Sunday. For a complete schedule visit audainartmuseum.com.
Whistler Zipline Tours
Glide over spectacular creeks and through majestic old-growth trees on a guided tour while learning about Whistler's ecology and wildlife. High-quality safety systems and expert supervision ensure a safe adventure for everyone. Visit whistler.ziptrek.com.
Forged axe throwing
Whether you're a first timer, experienced timber sports veteran or serious competitor, Forged is the place to hone your axe throwing skills. It's also Whistler's only indoor axe throwing venue. Visit forgedaxe.ca.
There's too much going on to include it all here, but highlights include a pancake breakfast, free concerts, crafts and a parade. Check out the complete schedule at whistler.com.
Where to stay
We stayed at the Crystal Lodge & Suites for our Whistler weekend and the weather was so nice on the Saturday that we hung out by the pool while the grandkids swam and we soaked in the long-awaited sun.
If you're travelling with kids, you'll want to check out the games room offering everything from fooseball to shuffleboard to table tennis and Kinect for Xbox. And if you are into mountain biking, the lodge offers complimentary bike storage and a washing station. New this year is their bike tuning station where you can mount your bike and complete minor repairs using their tools.
When it comes to everything Whistler, you can't get much more central than the Crystal Lodge, located in the very heart of the village. In fact, its central location is why my husband and I were able to visit so many great eateries in such a short amount of time. Here are just a few recommendations for eating out in Whistler, which in recent years has gained a reputation as a destination for food lovers everywhere.
Tip: Upon check in, we received a Crystal Advantage card, which offers discounts on everything from dining to shopping to salon treatments, so we put it to great use over the weekend.
Where to eat
Wild Wood Pacific Bistro
The bistro is only open for breakfast and lunch in the summer months and specializes in fresh bakery, vegan and gluten-free menu items. The prices are good too — $10 for a breakfast wrap and $12 for a classic breakfast. We ate breakfast at the Wild Wood during our recent visit — twice — and were impressed both times. Visit wildwoodrestaurants.ca.
Beacon Pub and Eatery
Grab a seat on the patio of the Beacon for some great people watching while enjoying even better bites. The Beacon menu is casual, but it's not the usual pub grub — think tuna tataki, foie gras parfait or cedar-planked salmon. And don't forget to drop by for happy hour, seven days a week from 3 to 5 p.m. Visit beaconwhistler.com.
Basalt Wine & Salumeria
Described as offering "west coast alpine cuisine," Basalt is a charcuterie lover's dream. Basalt's charcuterie and cheese program, sourced from both local offerings and ingredients from around the world, offers guests a great opportunity to share samples around the table. From a classic cheese fondue during après ski season to a thoughtfully crafted brunch menu on weekends, Chef Bill Grimshaw and his passionate culinary team have created seasonally inspired menus that stay true to local ingredients but also give a nod to the Old World. Visit basaltwhistler.com.
Free transit on weekends
June 16 to Sept. 16
Returning after a popular debut last summer, free weekend transit is back in Whistler. Ride for free on Saturdays, Sundays and holiday Mondays with Whistler Transit from 5 a.m. Saturday until the last bus on Sunday (or holiday Monday). Buses will run every 15 minutes from 7 a.m. to 8 p.m. on Saturdays and Sundays. Visit whistler.ca.
sthomas@vancourier.com
By: Vancouver Courier
GuidedBy is a community builder and part of the Glacier Media news network. This article originally appeared on a Glacier Media publication.
Guided By
Location
Topics