Back
The best of Huntington Beach -- in 36 hours
---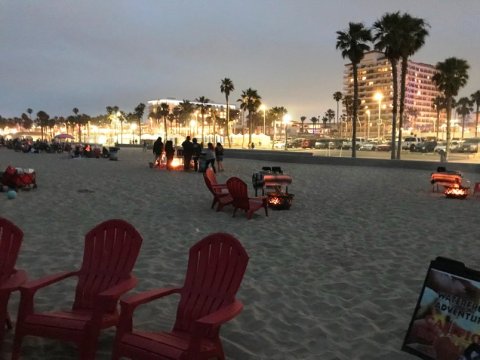 Set against a backdrop of 10 miles of pristine white-sand beaches, part of the draw of Huntington Beach CA is that alongside its many high-end properties and shops, it still has all the charm of a small California surf town.
And situated just an hour's drive from LAX and 40 minutes from SNA (John Wayne Airport), Surf City USA is an easy getaway, not only for Californians, but also B.C. residents. With its consistently warm weather, a foodie's dream food scene and laid-back surf vibe, I would have loved to spend a week or two exploring all HB (as Huntington Beach is affectionately known) has to offer, but all I had was 36 hours. To make the best of your HB getaway, here are just a few highlights of my visit to consider.
Activities
The beach
You don't have to be a surfer to enjoy the surf and sun while hitting the beach, which is made easy with ample pay parking, restrooms and showers. Volleyball courts and fire rings/pits are also available for public use, but if you want to take it up a notch check out the beach butler bonfire packages from Waterfront Adventures.
After dinner, on night two of my visit, our group — made up of international journalists — headed down to the beach for dessert where a fire was already blazing and red Adirondack chairs and blankets were set out, all thanks to our beach butlers.
There's nothing like a bag of marshmallows, Graham crackers and chocolate to create an epic feast of s'mores to bring out the child in even the most jaded journalist and we shared stories and laughs around the fire while futilely attempting to wipe sticky goop off our fingers.
Huntington Beach Pier
As one of the longest piers on the West Coast, the Huntington Beach Pier extends 1,850 feet over the Pacific Ocean and is action central for all things Surf City has to offer. During my visit preparations were underway for not only the annual Duck-a-Thon, but also Pride celebrations.
The pier is definitely a tourist attraction, complete with souvenir shops, but it also offers panoramic views of Catalina Island, Newport Beach, Long Beach and San Pedro. Fishing off the pier is free and rods can be rented from Let's Go Fishing.
It was following a historic surfing demonstration by legendary Hawaiian Duke Kahanamoku in the 1920s following his gold medal win at the 1921 Olympic Games, that Huntington Beach became synonymous with the sport. Fittingly, Duke's Huntington Beach restaurant stands at the entrance to the pier.
Drink Champagne on a vintage yacht
Our afternoon on a 60s-era yacht, complete with beautifully restored teak floors, was a highlight of my visit to HB. We sipped Champagne in the sun while cruising Huntington Beach Harbour with Prince Charters and drooled over the waterfront homes of the rich and famous we passed by.
Initially, I tried to play it cool and not look too much like a voyeur, but eventually I gave up all semblance of a sophisticated local and snapped photo after photo of these astounding homes. If you have the time, and are curious at all about how the other half lives, I highly recommend this cruise.
Dining
The Waterfront Beach Resort: A Hilton Hotel
With views of the beach and a modern, mature décor, Henry's offers a sophisticated take on Surf City USA. We enjoyed a limited brunch menu due to the fact Henry's had not yet officially opened and based on that, if you have the opportunity I strongly advised ordering the hash browns, which are crispy, Jenga-shaped rectangles of joy.
The rest of the menu, including house-made sausage, house-cured bacon and rye pancakes, demonstrate the attention to detail the chef has taken in this carefully curated menu. I ordered the overnight oats, complete with edible flowers and freeze dried raspberries, and our group shared the sausage, bacon and hash browns family style.
I could taste the care that went into not only their preparation, but also their production. The dinner menu is a mix of seasonal seafood, steaks and sinful desserts. The name Henry's pays homage to American railroad magnet Henry Huntington, Huntington Beach's namesake.
Tanner's Restaurant
We enjoyed breakfast at Tanner's and embraced the SoCal (Southern California) surf-inspired menu — think acai bowl, avocado toast, Santa Barbara smoked salmon, healthy smoothies and lemon ricotta pancakes.
A large patio overlooks the ocean and an epic happy hour at the Treehouse lounge on the second floor takes place Monday through Thursday. Live music is offered at the Treehouse Monday through Thursday and a DJ transforms this outdoor space into a club scene Fridays and Saturdays.
Hyatt Regency Huntington Beach Resort
Pete's pays homage to the California surf scene in a big way, complete with casual, colourful décor that includes surfboards, surf memorabilia and a SoCal-inspired patio. When it comes to the food though, Pete's features specialty dishes from beach and surf destinations from across the globe.
During lunch we shared chips and house-made salsa, spicy green beans and Pete's famous fish tacos with home-made guacamole, mango pineapple salsa and cilantro-lime crema. Pete's is a great, casual place to drop by after a day at the beach with the kids or for tiki drinks at happy hour.
I'm a fan of Kimpton hotels so was anxious to check out the Pacific Hideaway located within the Kimpton Shorebreak Resort — and it did not disappoint. The Hideaway's patio overlooks Huntington Beach, making it the ideal place to catch up with friends and family and take in a sunset.
No surprise, the restaurant's décor is also surf-inspired and takes inspiration not only from its SoCal location, but also beach destinations such as Bali and Tulum.
The eclectic menu had enough choice to make our group, including several vegetarians, very happy and we enjoyed everything from a gorgeous berry salad to charred cauliflower cooked in turmeric-coconut brine, whole crispy fish and tacos.
Hyatt Regency Huntington Beach Resort
My experience at this waterfront oasis began with creative cocktails, including the Pineapple Express made with vodka, ginger liqueur, cucumber, pineapple, lime and smoke (no cannabis included), and the Watertable Manhattan, equal parts Eagle Rare bourbon whiskey, Amaro Montenegro, Carpano Antica vermouth and a dash of black walnut bitters.
When it comes to presentation, dinner itself was almost too beautiful to eat. While embracing all that Southern California has to offer, Watertable's dinner menu also pays homage to classic steak houses of the past with offerings such as the house-butchered Prime New York and 32-ounce Wagyu Tomahawk. Of course fish and seafood also play an important role on the menu.
Scratch-made sauces, including bacon or wine flavours, make perfect pairings to sumptuous sides, like the organic chive mashed potatoes and asparagus with toasted hazelnut gremolata and crispy prosciutto. An exquisite wine list tops off the menu. We sat outside on the patio for dinner and it played a starring role in a spectacular evening.
Shopping
In the heart of Huntington Beach is Pacific City, a shopping, dining and entertainment complex adjacent to the Pasea Resort — and a short walk from all of the nearby beachfront resorts along the Pacific Coast Highway. It's at Pacific City where you can shop for everything from swimwear to surf gear, hand-crafted cocktails and beer, clothing, dog accessories, kids clothes, artisanal coffee and jerky.
If you visit Huntington Beach, make sure to check out Pacific City's calendar of events, which includes Coffee and Cars every Sunday, live music on the Ocean Deck, movie nights, the Kids Club: Save the Oceans and more.
Where to stay
If you want to immerse yourself in Surf City USA, there's no better place to start than with the Pasea Hotel and Spa. Just steps away from the sand and with a pool overlooking the ocean, the Pasea has upped the surf-vibe quota with its beach-inspired décor.
The interior of this pet-friendly property is colourful, bright and airy and outdoors you'll find fire pits, cabanas by the pool, bike cruisers and beach butlers who provide pedicab rides to and from the beach — along with towels, chairs and umbrellas for daily use.
Our room overlooked the pool, had an ocean view and surf-inspired details. From the moment we arrived at the Pasea, I felt like I had stepped into a modern version of a Jan and Dean music video of their famous hit, "Surf City" — if such a video had been produced in 1963.
Besides Tanner's and the Treehouse lounge, the Pasea offers grab-and-go options at the Blend Café off the lobby, which sells coffee, drinks, snacks, food, wine, magazines, T-shirts and gifts.
A highlight of my stay at the Pasea was my visit to Aarna Spa,which was much appreciated after a couple of days of travelling. I luxuriated in the Collection massage, which allowed me to choose from six custom blends of aromatherapy oils. It wasn't until after I finished my treatment that I realized CBD massages are also available.
Aarna also offers numerous fitness classes including #WineWednesdays Yoga, which is free for hotel guests and includes Napa-based wine following the class. A visit to Aarna also gives guests complimentary access to the spa's amenities, including a steam room, Jacuzzi and dry sauna with eucalyptus.
For more information about Huntington Beach, visit surfcityusa.com.
Sandra Thomas was a guest of Visit Huntington Beach, which did not read or approve this article in advance.
sthomas@vancourier.com
By: Richmond News
GuidedBy is a community builder and part of the Glacier Media news network. This article originally appeared on a Glacier Media publication.
Guided By
Location