Back
8 awesome things to do in Whistler besides ski and snowboard
---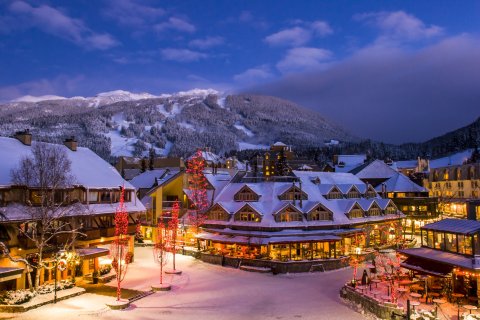 While skiing and snowboarding are a great deal of fun, Whistler offers a plethora of fun activities that you must try.
From dog sledding to luxurious spas, delicious eats to bobsledding, this alpine destination has something for you!
Check out our list of awesome activities you must try on the mountain.
10 Awesome Whistler Activities
Dog Sledding
You don't have to travel way up north to experience the thrill of dogsledding. This unique experience allows you to race across snow covered landscapes pulled by a team of exuberant sled dogs! Further, you can sit while an expert guide steers the sled for you, or you experience the thrill of mushing on your own!
Scandinave Spa
Whether you've spent a long day on the hills or you simply want to unwind, the Scandinave Spa offers the perfect retreat. Indeed, this luxurious indulgence offers the Scandinavian tradition of hydrotherapy to relax and energize you. Immerse yourself in the beautiful, blissful baths or get a well-deserved deep-tissue massage. Yes, please!
Bobsledding
If you haven't tried it yet, you're in for the thrill of a lifetime! Bogsledding is an exhilarating sport that that you need to check off of your bucket list. What's more, Whislter's adrenaline-fueled ride takes guests down the world's fastest track. You and a team will conquer 10 twists reaching speeds of 125+ km/hr! Further, you don't require any experience to take part in the adventure.
Tubing
Bobsledding is great for adults, but kids will enjoy tubing on the mountain. Not only is it a ton of fun, but Whistler's Coca Cola Tube Park offers 7 Tube Lanes to enjoy from a more gentle slope as well as longer faster lanes.
Snowshoeing
Whistler has an abundance of beautiful trails that are ideal for snowshoeing. While it may not be as fast-paced as skiing or snowboarding, it offers the ideal way to get your heart rate up while taking in the alpine vistas. With that being said, a tour guide can teach you how to use the snowshoes effectively in different snow conditions.
Whistler Bear Viewing Tour
Whistler's famous black bears always delight visitors and a safari is the perfect way to catch one on film. These tours take you in comfortable 4x4 vehicle through ski area habitats to catch the critters in the wild up close and personal. With that being said, bears do hibernate in the winter, so near Viewing tours typically run from April/May through September/October.
Shopping
Whistler village has a number of brand name boutiques to explore, as well as unique local favourites. In addition, you can also shop markets for delectable foods. You can browse the neighbourhoods for fine artwork.
Zipline Tours
This thrilling experience allows you to glide over spectacular creeks and through majestic old-growth trees on a guided tour. You don't require any previous experience, and you'll learn all about the local ecology and wildlife as you venture into the wilderness.
By: Vancouver Is Awesome
GuidedBy is a community builder and part of the Glacier Media news network. This article originally appeared on a Glacier Media publication.
Guided By
Location
Topics