Back
Your guide to houseboating on Lake Mead
---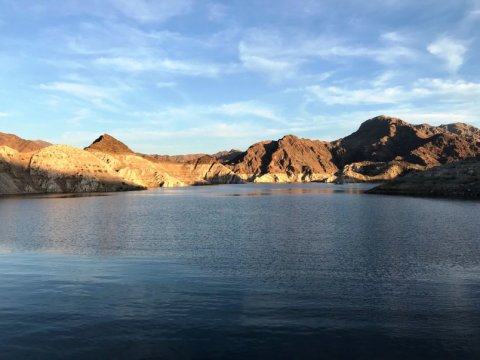 Looking up from the top deck of our rental houseboat on Lake Mead, the night sky above us was alive with stars — thanks to a lack of artificial light for miles.
This being April, the start of houseboat season in Nevada, at night we literally had the lake to ourselves as far as we could see. And during the day we were also mostly alone, with the exception of the curious desert big-horned sheep we spotted one afternoon checking us out from above, numerous birds including vultures, and the odd hopeful fisherman casting for alarmingly large catfish and bluegills, which we watched trolling for food along the red canyon walls that rise above the blue-green lake.
But at night the lake belonged to our small group, made up of me and my husband and two of our closest friends. Being from the city I was initially a little unnerved by the quiet, but it didn't take long to unwind and begin to appreciate the solitude.
Being that far from other people also meant that when we played our carefully curated playlist of music on the boat's sound system, we were able to listen to our baby boomer favourites at full blast. Let's just hope the big-horned sheep appreciated our tunes, which included everything from the Doors to Donna Summer, the Rolling Stones, Creedence Clearwater, Elton John, the Pointer Sisters and other classics from the '60s, '70s, '80s and '90s.
We were on a 70-foot houseboat from Forever Resorts located in Callville Bay Marina, about a 30- minute drive from Las Vegas, and on the way out for our three-night, four-day adventure we stopped and stocked up on food, wine, water and liquor — we had also each stocked up on books. It's important to buy everything you need ahead of time because, with the exception of the ice we bought at the marina, once you get out to the lake that's pretty much it with the exception of a small sundries store. And once you get out on the lake, unless you want to pay a hefty delivery charge, what you brought is what you got.
Our initial plan was to moor at a different spot each night but, as we quickly discovered, positioning the 70-foot Titanium in the wind for the first time was a little more daunting than the simple directions we were given: "Just run it up onto a beach and stake it in."
First, we didn't see a lot of actual beaches, but we did find a spot we could tell had been used before so my husband Laurence, with the help of his first mate/friend Doug, ran the boat up onto the side of a hill. And while Laurence held the engine and boat steady in place, Doug and Sue climbed off the front of the boat and hammered tall stakes into the shale base of the hill.
Eventually we got the boat secured and decided the cozy cove we settled on would be an ideal place to spend the next few days. I imagine the more times you navigate a houseboat of that size around the lake the more exploring you'd feel comfortable with. So, we crossed the Hoover Damn off our list of day trips and decided to fill the hot tub and relax.
Lake Mead, created in 1935 upon completion of the Hoover Dam, is managed by the U.S. National Park Service and is almost 180 kilometres (110 miles) long with more than 550 miles of shoreline.
Our houseboat was so large the top deck alone included a horseshoe-shaped bar, hot tub, bar fridge, sound system, water slide, party lights and covered flying bridge. It didn't take long for the hot tub to fill up, but the weather was so warm we ended up draining it and refilling it with cool water, creating a mini pool.
The main deck held two bedrooms, two bathrooms, a full kitchen, living room with satellite TV and outdoor barbecue. Two more bedrooms were just a few steps down from the main cabin. Our fully-equipped floating condo also came with everything you could possible need for cooking, sleeping or swimming.
Once we got settled our days were filled with coffee on the top deck in the morning, reading and sun tanning in the afternoon and wine and hot/cool tubbing in the evening. We had also borrowed some DVDs from the marina, so we enjoyed a movie night and, no, we did not watch Cape Fear.
In the summer months, Lake Mead is famous for its houseboating and is popular with young adults as a way to celebrate birthdays, graduations and bachelor parties — from the videos available online, it looks like a lot of fun. But, if you're not looking to party hard I'd recommend the shoulder months when Lake Mead is a paradise for anyone looking to get away from it all.
Top tips for houseboating on Lake Mead
Start early: There is an "Early Board" option, when available, that allows you to spend the first night on the boat at the marina so you can be one of the first out on the lake in the morning after your orientation.
Complete an online boater course: When it came to piloting the boat, my husband was thankful he knew the rules of the water. There is no crew on these houseboats, so it's up to you and your first mates to operate the houseboat safely.
Accessibility: There is a steep set of stairs that goes to the top deck and a shorter set going down to two of the bedrooms.
Staking in the boat: Maybe it was our location, but this was a lot harder than any of us expected. The ground where we were was shale, so tough to pound in the long stakes.
Buy a fishing licence and bring or rent some gear: When we saw the fishermen out on the lake, we really regretted not being able to join them.
Water: The water on board is drinkable, but doesn't taste great. We bought a bunch of bottled water, but also boiled water in a large pot.
Waterslide: Anyone going off the waterslide needs to wear a lifejacket. Going from the high temperatures onboard to the cold water of Lake Mead can take your breath away, especially children.
Bring binoculars: What were we thinking leaving ours at home?
Entertainment: Bring music, books, games, cards and anything else you need to keep busy, but stay off the phone unless it's to take photos and enjoy the moment.
Power: There were plenty of places onboard to plug in phones, tablets etc.
sthomas@vancourier.com
By: Vancouver Courier
GuidedBy is a community builder and part of the Glacier Media news network. This article originally appeared on a Glacier Media publication.
Guided By
Location
Topics