Back
Whistler off-road course unleashes a whole new Porsche
---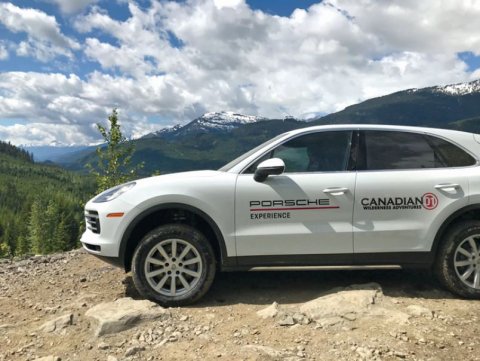 There are few instant images that pop to mind when you put the brands "Whistler" and "Porsche" together.
Maybe you're picturing a 911 Speedster humming up the Sea-to-Sky Highway with the convertible top down, orcas splashing in Howe Sound on your left and the snow-capped Coastal Mountains towering on your right.
Or maybe the sportier among you envision a Macan Turbo scooting over the snow on the way to Whistler Blackcomb, a roof rack on top loaded with the latest snowboard and ski equipment.
Most people probably picture something like a bright yellow 718 Cayman GT4 pulling into the driveway of the Four Seasons Resort, two high rollers popping out ready for a night of fine-dining and making a splash on the après-ski scene.
But that's not why we're here. We're in a Porsche, yes, and we are making a splash, but it's the literal kind of splash, as in we're driving our $90,000+ Porsche straight through a river. Next we're rolling the passenger-side wheels up an embankment, the Porsche leaning so far to the left that we're convinced it's about to roll onto its roof. But of course it doesn't roll, and soon we're tipping back and forth through a series of massive holes, each wheel taking a turn spinning several feet in the air while its three ground-bound friends adjust their power-output to keep things moving smoothly.
This is the Porsche Off-Road Driving Experience, born of a partnership between the famous German automaker and touring company Canadian Wilderness Adventures. Once you've done the tour, you will never look at a Porsche in quite the same way. Nor Whistler, for that matter.
Porsche was so keen to demonstrate the off-road capabilities of their SUVs that they hosted a pack of automotive journalists for an evening at a posh Whistler resort followed by a morning of wild driving on a specially designed off-road course. We're in a group of approximately 10 drivers with three accredited Porsche Sport Driving School instructors along with us, helping each driver feel comfortable plowing their Porsche Cayenne S through a pool of water just a few short steps away from a steep cliff face.
"Windows up, please!" they say as our Porsche gets an off-road car wash. We hit the gas, and moments later are dripping with excitement.
"People are amazed at what this car can handle," says Porsche driving instructor Andrei Mortila. "It's a much more capable off-road vehicle than people think. People when they think of Porsche and Cayenne, they think of a street vehicle. But we've got air suspension … we went through that river no problems whatsoever."
Mortila, a former pro snowboarder and rally car driver who has guided unique driving experiences around the world, says this Whistler course is his absolute favourite. Part of that is because the native of Romania now calls Whistler home, but the biggest reason is the fun of pushing the limits of a high-performance luxury car in such a beautiful but unexpected location. The meat of the experience takes place on a specially built off-road course well off the highway in the Callaghan Valley south west of Whistler. You've got to keep your eyes locked on the trail ahead of you as you climb straight up a cliff face, but when you reach the top and have a chance to put it in "park" for a moment, the views are stunning.
"We're in beautiful Whistler, it's a very beautiful spot, and the off-road course is in a beautiful setting as well," says Mortila. "The general impression [of the drivers] is they're amazed by what the car can do considering the versatility. You can go to Sport mode and stiffen the suspension a little bit and it's a very capable and very fun car to drive on the road, and you can switch like that into a proper off-roader."
And there is no doubt that when you hit the dirt, you are in a proper off-roader. According to Porsche PR, their 4D Chassis Control "centrally analyses the driving situation in all three spatial dimensions – the pitching, rolling and yawing motion. It calculates the best driving conditions and synchronizes all chassis systems in real time: the fourth dimension."
The off-road package adds features such as rock rails, skid plates and reinforced engine protection to increase underbody protection as well as a compass display which shows tilt, gradient and steering angles on the infotainment display screen. There are lockable centre and rear differentials, active all-wheel drive with fully variable clutch plate, Porsche Torque Vectoring Plus and that adjustable off-road air suspension.
You may or may not know the details of what all those features do for you while you are driving up a mountain, but you certainly get the sense that as the Cayenne S glides over rocks, around banked turns and along narrow pathways, there is some serious technology helping you make difficult driving tasks seem easy. As the path narrows in on both sides, the display automatically switches to a 360 degree overhead view that beeps and flashes with increasing urgency anytime you approach a rock or tree that can't be climbed over.
And then, after a few hours of enchanted wilderness adventure, you pull your Porsche back onto the highway, switch into Sport mode and remember that this machine is equally adept at navigating a race track as it is climbing mountains. Pulling back into the posh resort town, people stare in wonder at the line of Porsches rolling by, wondering how we got them all so dirty.
The Porsche Off-Road Experience costs $399 for a 3.5-hour round trip for one driver, with an additional driver costing $100 and passengers along for the ride for $75. Visit the Porsche Off-Road Experience website for more information.
By: Vancouver Courier
GuidedBy is a community builder and part of the Glacier Media news network. This article originally appeared on a Glacier Media publication.
Guided By
Location
Topics