Back
5 ways to experience Desolation Sound
---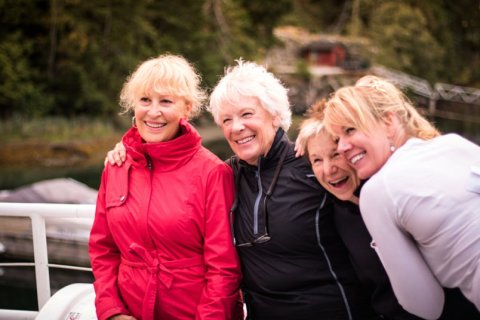 Sponsored Content
Go Cruising
The 4-night Desolation Sound Wilderness Discovery Cruise is a sensational experience unlike anything else. With a maximum of just 16 guests, cruise the nearby waters and relax in comfortable water edge lodges: Historic Lund Hotel, Homfray Lodge, and Tsa-Kwa-Luten Lodge.
Departs June to September from Lund, B.C.
Hear the History
Storyteller and award-winning author Grant Lawrence, whose family has owned land in the region for 40 years, will be joining the July 23rdfour-night "Adventures in Solitude" Desolation Sound tour. Stories will cover local First Nation, the pioneer era, the Age of Aquarius and modern day.
Departs June to September from Lund, B.C.
Settle into a Lodge
Just an hour boat ride from Lund on the Sunshine Coast, Homfray Lodge brings you to the heart of British Columbia's coastal wilderness paradise. This all-inclusive lodge allows you to immerse yourself with nature by relaxing on the expansive dock, kayaking on the calm water, enjoying the views from your private chalets, or joining an eco boat tour.
Open until mid-October.
See the Grizzlies
Get up-close-and-personal with grizzly bears in a tour guided by Klahoose First Nation Guides. From specially designed bear viewing stands set up along the Klite river, groups of up to 12 guests will have a chance to see Grizzly bears in their natural habitat.
All-inclusive tours depart from Lund and run from late August to mid-October.
Experience Land and Sea
Can't decide if you want a cruise or an eco-lodge stay? You can choose a two-night Desolation Sound Weekend Cruise departing Fridays and returning Sundays which includes a stay at the lodge. Journey from Lund and search for incredible displays of marine life, including dolphins, porpoises, orcas, humpbacks whales, seals, sea lions, eagles, and a variety of sea birds.
Departs from Lund, B.C. June to August with complimentary transfer provided from Powell River Airport.
For more information on rates and tours, call at 604 566-8027 or visit Pacific Coastal Cruises & Tours at https://www.coastalcruises.ca/.
For more information, visit Homfray Lodge at https://www.homfraylodge.com/.
By: North Shore News
GuidedBy is a community builder and part of the Glacier Media news network. This article originally appeared on a Glacier Media publication.
Guided By
Topics