Back
This B.C. hike takes you through a network of mysterious tunnels
---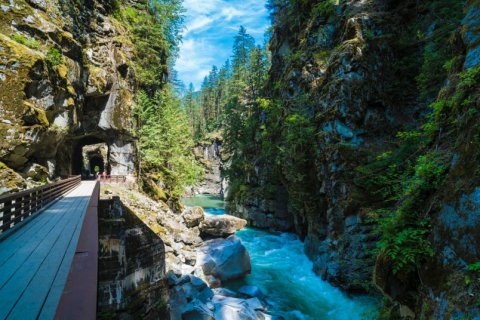 Built in the early 1900s, the Othello Tunnels were constructed by the Canadian Pacific Railway to link the Kootenay Region with the B.C. coast by rail.
Soaring over the Coquihalla River, a straight line of tunnels were built through a 300 foot deep channel of solid granite in the Coquihalla Gorge.
Now, the tunnels are a popular tourist attraction for the town of Hope.
The journey through the tunnels is a 3.5 km round-trip hike, and takes approximately one hour to complete. As such, it is a relatively easy excursion with very minimal elevation gain.
The hike provides numerous opportunities for stunning, panoramic views of the wild Coquihalla River from its connecting bridges. There are also a number of breathtaking waterfalls and lush vegetation to view along the way, too.
In contrast, the tunnels are dark and mysterious while the sound of the river rushes past. As such, hikers are encouraged to bring a flashlight as the gravel surface underfoot may be uneven due to erosion caused by dripping water.
Spread over a 135 hectare land base, visitors may enjoy viewing, walking, fishing and picnicking in the area. Pets are only allowed on the hiking trail and they must be kept on a leash at all times.
The journey from Vancouver takes approximately two to two-and-a-half hours by car. They are located right off Highway #5, just north of Hope.
In addition, the tunnels typically open on May long weekend and close in September. However, they may open later due to unstable conditions.
If you are looking to visit another fascinating B.C. relic, the Johnny Ward Guest House at the Yale Historic Site is now accepting reservations for their 2019 season. Yale is only about a 20 minute drive from Hope, and it was once the biggest city north of San Francisco and west of Chicago.
Othello Tunnels
Be sure to check current weather, terrain, and wildlife conditions prior to embarking on a hike. In addition, make sure that you know your physical limitations, tell someone where you are going, bring enough food and water, wear appropriate clothing, and never hike alone. Don't attempt dangerous poses for photographs.
Visit Vancouver Trails online for a detailed list of safety tips and things to consider before your next hike.
By: North Shore News
GuidedBy is a community builder and part of the Glacier Media news network. This article originally appeared on a Glacier Media publication.
Guided By
Topics