Back
A Luxurious Maritime Weekend in Sooke
---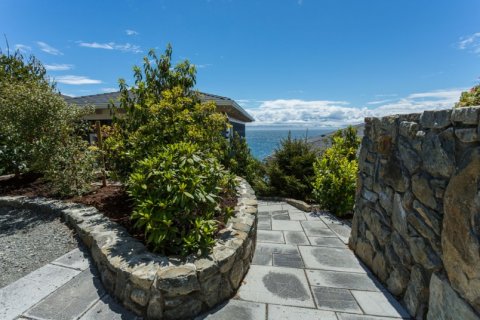 This summer, my friend Lucienne and I escaped smog-blanketed Vancouver for a few days in Vancouver Island's seaside town of Sooke.
Our journey began early on a Friday morning in July as we set off for Tsawwassen ferry terminal in our forest green hybrid Honda Clarity. A beautiful and blustery hour-and-a-half BC Ferries trip to Swartz Bay, and an hour drive along island highways brought us to the quaint town of Sooke (pop. 13,000). Here we stocked up on provisions, plotting the meals we would prepare in the fully equipped kitchen that awaited us in our luxury suite at SookePoint Ocean Cottage Resort.
After driving for 45 minutes along a remote island road, past sleepy bays where colourful sailboats were moored, we arrived at our destination. Currently under construction and in presale phase, a collection of 25 navy blue cottages has already been completed, creating a secluded Maritime community alongside a rocky peninsula on the Southwest tip of Vancouver Island.
The winds were strong on the sunny afternoon we arrived so my friend and I and spent a few minutes touring the property before deciding to hunker down for the afternoon in our suite. We started by checking in at registration area which happens to be where the resort's gym is located. Its amenities are simple—a few treadmills and weights—but the view guests take in through the gym's floor-to-ceiling windows; the deep teal Pacific Ocean waves crashing against East Sooke's rocky coastline, is nothing short of spectacular.
Next, we walked along the resort's undulating paths to our oceanview suite. At 1,340 square feet with nine-foot ceilings, the sprawling two-bedroom two-bathroom condo, which also includes a pull-out bed, provided more than enough space for the two of us. Contemporary in design but decorated with nostalgic seaside touches, the suite boasts three fireplaces (one in each bedroom and one in the living room), a soaker tub in the master bathroom and a desk area in the master bedroom with a window looking through into the living room and out onto the water (likely making it very hard to get any work done).
If guests feel like they're on a boat when staying in these suites—which I certainly did—it's because they are designed that way. The patio has been built in a prow-shape giving guests the feeling that they're on a luxury yacht (minus the sea sickness of course). Three floor-to-ceiling glass doors which open out from the open-concept kitchen and living space, were added to maximize the view of the sparkling sea—and to increase the chances of orca whale sightings, which are common.
Although we didn't see any orcas during our stay, we did spent hours relishing the glorious water view. On the day of our arrival, Lucienne and I spent the afternoon sitting in our living room, drinking wine, catching up on life and looking out at the vista. We watched as dozens of fishing boats circled slowly in the glittering waters right in front of our condo, taking advantage of the salmon-rich sea. Looking past them onto the horizon, we could see all the way across to the Washington State Olympic Mountains overlooking the Juan de Fuca Straight.
The next day Lucienne and I headed back into Sooke for a three-hour Sooke Harbour kayak tour with West Coast Outdoor Adventure. Here we explored the harbour on foot-powered Hobie kayaks (a first for Lucienne and I) led by our knowledgeable and charismatic guide, and spotted seals and many colourful starfish while learning about the area's history.
We loved spending time in Sooke but for guests who prefer to stay put at SookePoint Ocean Cottage Resort, there are many activities to enjoy there too, including a six-hour one-way hike along the Coast Trail, underwater diving, kayaking, and swimming, once the resort's pool area is built, that is. The resort is also an incredible wildlife viewing location with eagles, seals, sea lions, humpbacks and orcas calling the area home.
After our kayak trip, Lucienne and I headed over to Sooke's Serious Coffee, which had come highly recommended for its organic teas and locally roasted beans, to recharge before a stop at the infamous Sooke Potholes Provincial Park. The 7.28 hectare park is known for its rock formations that were created during the last ice age millions of years ago, and we spent an hour meandering the paths and stopping at viewpoints overlooking the Sooke River to peer down at the glistening pools down below.
Satisfied with our fun and stimulating day, Lucienne and I headed back to our suite to prepare a feast, incorporating local goods including brie from Little Qualicum Cheeseworks and gin and tonics made with Sooke's Sheringham Distillery gin. Then we gathered around our kitchen island to enjoy the meal with some friends who lived in the area. A celebratory ending to a luxurious and adventurous seaside weekend.
By: North Shore News
GuidedBy is a community builder and part of the Glacier Media news network. This article originally appeared on a Glacier Media publication.
Guided By
Location
Topics