Back
Backcountry Bounty
---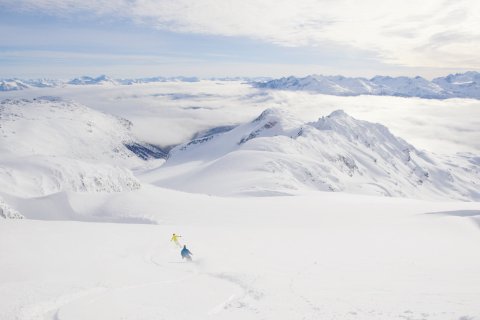 Whistler is bracing for a busy season beyond the ski area boundaries. The backcountry is beckoning like never before as skiers and snowboarders look to escape the crowds and keep their social distance. Never mind the peace and solitude, the connection to nature, that the backcountry provides in these uncertain times.
And so, the backcountry, once the bastion of a small, select group of skiers, is now becoming accessible for all, helped along by advances in equipment and training. Just ask industry insiders.
"We had a mad panic of backcountry gear sales when (Whistler Blackcomb) closed early last winter," explains Larry Falcon, manager of the Escape Route backcountry store, located in Whistler's Marketplace. "With people wanting to ski socially distanced around COVID-19, and a reservation system in place for skiing in the resort this winter, we're seeing a big growth in sales with novice and intermediate backcountry skiers."
And Whistler is where many will choose to take their first steps into the winter wilderness. All who venture out however, should be prepared with the equipment and skills to keep them safe, warm and dry; and all those that do, will undoubtedly attest that it's worth the effort.
The Spearhead Range
In Whistler, the most popular ski touring area is by far the Spearhead Range, accessible from the Blackcomb Glacier gate on Blackcomb Mountain. In less than 45 minutes of climbing a skin track, a pathway in the snow made by previous tourers, skiers can leave whirring lifts and throngs of people behind to access untouched powder slopes, steep couloirs and stretching glaciers. There are routes that conveniently loop back to the Blackcomb in-bounds ski runs and plenty of options to stay out for multiple descents before returning back to Whistler Village via Lakeside Bowl.
Those tackling the coveted Spearhead Traverse (a two- to three-day ski touring expedition requiring winter camping) begin their journey in the Spearhead Range before looping approximately 30 kilometres of glaciers and mountain passes back to Whistler Mountain. This expedition requires strong physical fitness, advanced ski ability to tackle the steep terrain, glacier travel experience, and both equipment and skills for self-rescue. Hiring a guide is highly recommended.
Navigation without proper maps (and experience reading them) can lead to parties getting lost or stranded. Make smart choices taking avalanche conditions and weather into account.
From the Whistler Mountain side of the Spearhead Traverse, ski tourers can hike up to the Flute Summit and exit into an area known as the Musical Bumps in the Fitzsimmons Range. This is the most moderate backcountry terrain accessible from Whistler Blackcomb and is a popular spot for beginner ski tourers.
At the far end of the Musical Bumps, overlooking Russet Lake, the recently completed Kees and Claire Hut provides skiers with an option to sleep in the backcountry. Modest bunk-style beds and self-catering kitchen facilities allow for up to 38 people to stay at the hut during normal operations, when COVID-19 protocols are not in place. From here ski tourers can climb and ski the nearby mountains of Fissile and Whirlwind, the slopes of the Overlord Glacier and the adjacent Cowboy Ridge.
This is the first of three huts planned for the Spearhead Traverse.
"The continuing rise of popularity in backcountry skiing, evident throughout the world, has only accelerated from the COVID-19 impacts," says Jayson Faulkner, chair of the Spearhead Huts Society. "The backcountry in Sea to Sky will likely be busier than ever. The demand for backcountry huts and infrastructure will in turn be bigger than ever and arguably, more important than ever for safety and management."
Callaghan Country
If you are looking for a more luxurious backcountry experience, the Journeyman Lodge in Callaghan Country provides a more comprehensive accommodation with meals and amenities such as a secluded traditional Finnish sauna. The ski terrain in Callaghan Country has a variety of options with plenty of tree skiing, perfect if your stay coincides with stormy weather. The Callaghan Valley is known to receive up to 30 per cent more snow than Whistler Blackcomb, making it a backcountry powder paradise.
"You could consider 'Callaghan Country' Whistler's secret snow stash," says Callaghan Country President Brad Sills. "Over the past four decades, we have sculpted small scale wilderness experiences to fit into this special landscape. We consider the Journeyman Lodge a testimony to the roots of Whistler's early ski community and their passion for wilderness and backcountry skiing."
Access to the Journeyman Lodge is by snowcat shuttle or by Nordic skiing from the carpark area in the Callaghan Valley, approximately 20 minutes south of the Village.
Know Before You Go
Have a plan before you head into the backcountry. The area beyond the ski area boundary is not avalanche controlled. It is critical to be aware of the avalanche conditions at the time.
Be prepared for self rescue. You must have the proper tools with you—probe, transceiver, shovel—and you must know how to use them.
Have some prior knowledge of what to expect out there: Take the two-day Avalanche Skills Training (AST) Level 1 course before venturing out. Whistler has several guide bureaus and outfitters that hold this course on most weekends throughout the winter.
Make sure your phone is fully charged and you know how to use the technology such as dropping pins.
For more information on safe winter backcountry travel, head to avalanche.ca
By: Whistler Magazine
GuidedBy is a community builder and part of the Glacier Media news network. This article originally appeared on a Glacier Media publication.
Guided By
Location