Back
Profiles of Excellence: Oxygen Yoga
---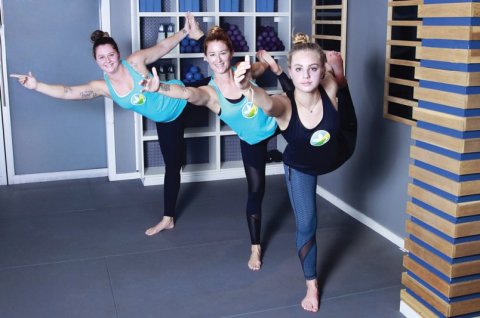 Sponsored Content
Acommunity within a community – that's what Oxygen Yoga and Fitness has created in their Columbia Street location since opening three years ago.
Oxygen has fast become a favourite home-base for yoga and fitness enthusiasts of all ages in the Royal City, which itself has a special place in the hearts and lives of its owners.
"That whole notion of community and what that means has always been important to us, but it really comes together here (in Oxygen) in such a unique way," said Kelly Ranford.
Ranford and Oxygen partner Faith Wiens opened the doors in January 2014 under the umbrella of the New Westminster-based Stonewater Group. Stonewater is an award-winning restaurant group that is owned by the Ranfords and the Flintoffs, local friends with long established roots in the Royal City.
When Wiens – who has been with Stonewater for over 18 years and serves as controller for the organization – told them about her experience with an Oxygen Yoga in another community, they were quick to agree with her assessment on the potential of a local franchise.
The decision has paid off in spades: their two studios have a bustling schedule that continues to grow and expand.
"It has absolutely become this incredible community. People enjoy being here, it's such a happy comfortable place to be," said Ranford. "What we've built here is very special."
Ranford notes the studio is unique in the breadth of its offerings: from traditional yoga practice, to more cardio-based yoga fusion classes with dance, boxing moves and more.
"We really pay attention to what members are showing up for, what's popular, what are they asking about, what's going on out there in the wider yoga world, what's best for our bodies, the latest concepts, and then really morphing our classes to fit those needs. Even the same person might need different things at different times and we can give them those options."
On top of that, the studio offers yoga teaching training and a variety of workshops.
"We have this really interesting range. We might have a weekend workshop on yoga as a coping strategy, and then we have the Naked Truth yoga teacher training. We have yoga instructors coming from all over to our studio to do training and I think that really is a testament to what Faith created in our particular franchise that we have the best of the best coming here."
Ranford is herself an instructor, on top of her primary role as an educator and counsellor with the New Westminster school district.
"It's a wonderful combination with my career, this ability to use yoga for anxiety and stress in counselling. We've been able to bring students into the studio – and every single one who has come has just loved it," she said.
Being able to not just build community but give back to the wider community as well has always been a primary focus for Stonewater.
"We grew up here doing sports and feeling supported in the community and now my own kids are doing the same and we want everyone's kids to feel that way so a lot of our community giving is focused on youth and sport," she said. "This city is very important to us."
For more information, please visit their website.
By: New West Record
GuidedBy is a community builder and part of the Glacier Media news network. This article originally appeared on a Glacier Media publication.
Guided By
Location
Topics