Back
The tiramisu wars heat up between Burnaby and New West. What's a belly to do?
---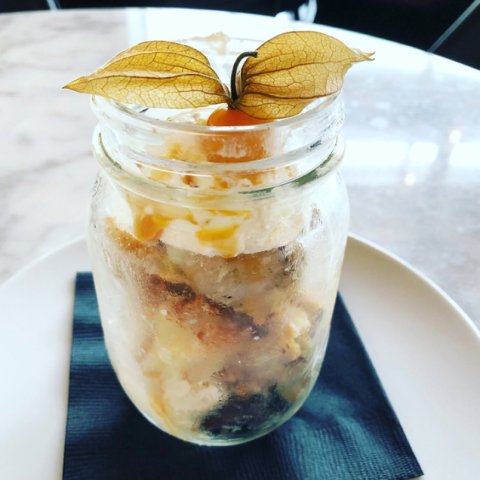 My very first "Bite. Me." blog was me saying that I had "likely" found the perfect tiramisu.
After it was published, I had a nagging feeling that I might have overstated things. Not that the tiramisu at Chez Christophe on Hastings in Burnaby wasn't incredible. It is still amazing.
But in the two months since that blog, two other mind-blowing tiramisus have come into my life.
They are so good that now I'm trapped in a dangerous food love triangle.
And one isn't even in Burnaby. It's across the border in downtown New Westminster – sparking a sort of tiramisu war.
The third tiramisu is at a place I wrote about last week – Sopra Sotto. It's a swirling cornucopia of spongy goodness, espresso cream, chocolate bits and more.
But the real star is the tiramisu sundae at Piva, a modern Italian restaurant attached to the Anvil Centre.
It comes in a big-ass mason jar, chilled to perfection. Inside is espresso ice cream that is made in-house by people who know what they are doing. Then there is homemade coffee cake, mascarpone whip and an orange-chocolate-almond brittle.
I should have eaten it while wearing a seatbelt because I got weak and nearly slid out of my chair.
It's sweet, but not overly so. The bitterness of the espresso balances things out.
Look, when I set out on this foodie blog journey, the plan was to write about my favourite bites in Burnaby.
Ignoring something this incredible, just because it's a little over the border, wouldn't be fair. The rest of Piva is pretty special too. I had a lobster risotto that didn't skimp on the lobster or the flavour.
I'm not sure where this leaves me. I had thought I had found the most perfect tiramisu and that no other could be its equal. And then this comes along.
I guess there's room in my belly for more perfection.
DISCLAIMER: I have not be paid by the restaurant in question for this blog. I paid for my own meal and the restaurants have no idea I am writing about them.
Follow Chris Campbell on Twitter @shinebox44.
PS: If you have great bites you want me to try in our community, email me at ccampbell@burnabynow.com
By: New West Record
GuidedBy is a community builder and part of the Glacier Media news network. This article originally appeared on a Glacier Media publication.
Guided By
Location
Topics