Back
Shockwave therapy can aid chiropractic and physio treatments
---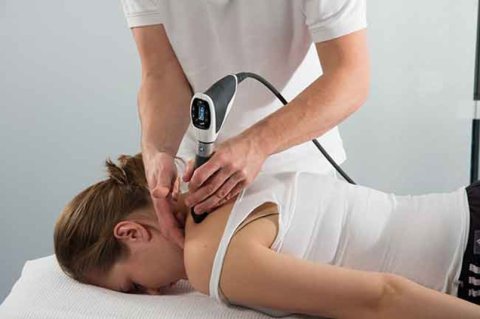 Sponsored Content
Royal City Health & Manual Therapy clinic offers a full range of healthcare treatments, including chiropractic and physiotherapy.
"Our clinic has six physiotherapists, six massage therapists, a chiropractor, a dietician, and a clinical counsellor," says Jeanie Bezdan, co-founder and owner of Royal City Health & Manual Therapy.
Conveniently located in the Royal City Centre Mall in New Westminster, Royal City Health & Manual Therapy offers shockwave therapy in conjunction with chiropractic and physiotherapy treatments.
"Typically, a patient is booked in initially for either physiotherapy or chiropractic sessions," Jeanie explains. "They may then progress to the inclusion of shockwave therapy at the discretion of the treating practitioner."
Used for decades to help alleviate chronic pain from a variety of causes, shockwave therapy is a non-invasive treatment that consists of an intense, but very short energy wave that travels faster than the speed of sound.
"It's administered using a hand-held instrument that emits strong sound wave energy pulses to the affected area," Jeanie says. "Approximately 2,000 pulses are introduced in a four-minute treatment, allowing pathological alterations of tendons, ligaments, capsules, muscles, and bones to be eliminated systematically."
Jeanie points to studies that have shown the success of shockwave treatment over the years.
"Studies have shown that this type of treatment results in 83 percent improvement with calcific tendonitis of the shoulder," Jeanie notes, "and 77 percent improvement with tennis elbow. There's a 90 percent success rate with plantar fasciitis and 88 percent improvement for patellar tendonitis."
The number of treatments necessary is dependent on the condition being treated, but the healthcare professionals at Royal City Health typically space treatments five to seven days apart, with an average number of treatments in the four to six range.
"Although the therapy itself can be uncomfortable," Jeanie says, "the relief of painful symptoms can be quite immediate after a treatment."
For more information on shockwave therapy or to book a free consultation, call Royal City Health & Manual Therapy at 604.524.4446, email, check out the website, or visit the clinic at Royal City Centre Mall, 210-610 6th Street, New Westminster. Royal City Health can also be found on Facebook.
By: New West Record
GuidedBy is a community builder and part of the Glacier Media news network. This article originally appeared on a Glacier Media publication.
Guided By
Location
Topics