Back
B.C. residents find moving home more stressful than starting a family: poll
---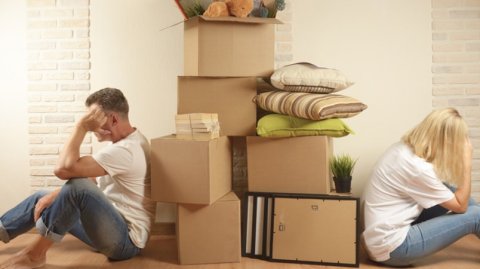 Ahead of the what has been deemed the busiest moving day of the year, Sunday June 30, BigSteelBox has released the results of its annual home-movers' poll. And there's no doubt about it – moving home is one of life's most stressful experiences.
In fact, the storage solutions firm found that more B.C. residents said their most stressful experience was moving home (32.4 per cent of respondents) than even starting a family (12.8 per cent) or planning a wedding (10.9 per cent).
British Columbians are also getting increasingly stressed about moving home. Almost 59 per cent said they found moving a stressful experience, with 18 per cent reporting "extreme stress" – up one per cent from the 2018 survey.
It's not surprising that it's an anxiety-inducing time, considering that a surprising 34 per cent of British Columbians don't start packing until a few days before the big move – and, within that figure, seven per cent only start the night before.
Home movers are also worried about the cost of the move, with 43 per cent saying the found the process more expensive than they were expecting it to be.
Of even higher concern than unpredictable pricing was the idea of putting hired movers in charge of precious possessions. A plurality of British Columbians (36.5 per cent) said that lost or broken items was their biggest fear in the process, compared with the next biggest fear, unpredictable pricing, at 29.2 per cent.
BigSteelBox offered some recommendations for home movers to reduce their stress, including:
do your research on home-moving companies and make an educated decision based on your budget, capacity and physical abilities;
give yourself more time than you think you need, as packing often takes longer than expected, and don't try to do it all at once;
clearly label all boxes and which rooms they are going to; and
understand different costs of moving options – many long-distance moving companies will charge by weight, which is hard to estimate upfront and can lead to a final bill much larger than the initial quote.
By: Burnaby Now
GuidedBy is a community builder and part of the Glacier Media news network. This article originally appeared on a Glacier Media publication.
Guided By
Location
Topics