Back
Create an Awesome Home Office Space on A Budget
---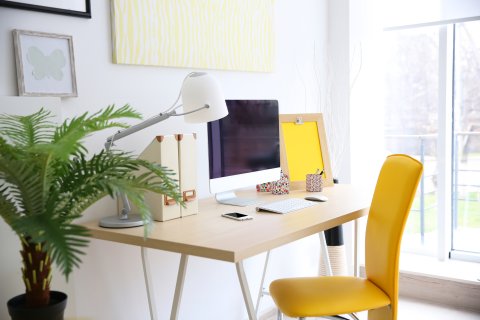 It seems nowadays there is a high demand for small home offices.
More and more companies are establishing remote work options for busy families and dual working parents. There are also a number of working parents that have started their own home-based businesses. With this demand comes a need for homeowners to strategize their home
office space.
A small home office doesn't have to be expensive, but it's important to carefully plan out your space. The office space should reflect the design and comfort of your own home surroundings. Embracing every nook and cranny of your designated area is key.
Once you have chosen where the office space should be, think about a paint colour that will help you concentrate yet stay calm under pressure. White offices are very popular these days but I have seen a lot of different shades of blue as well. Blues are a nice choice if you are looking for a cool, calm place to relax. And remember to choose a colour to get those creative juices going.
Fold up desks are a great idea for very small corners. Invest in a good chair and desk organizer. Your home office furniture should complement the other furniture in neighbouring rooms. If you have a modern décor then think about putting in a modern office. Alternatively, a warm, traditional home would welcome a cosy, soft space with warm woods, and comfy chairs.
The organization of your home office space is very important. Remember to organize your space horizontally and vertically. Floating shelves are wonderful for this purpose, as are baskets and file organizers. When you have a small space to work with, think about purchasing desks with drawers and cupboards to hide the mess of the desk and stay organized.
And where possible, take advantage of as much natural lighting as you can. Natural lighting has many advantages, but experts agree the more natural light you can bring into your office space the healthier and more productive you will feel.
Barb Lunter is a freelance writer with a passion for home decor, entertaining and floral design. She also runs Blu Dog Staging & Redesign. You can find more information at bludogstagingandredesign.com.
By: Burnaby Now
GuidedBy is a community builder and part of the Glacier Media news network. This article originally appeared on a Glacier Media publication.
Guided By
Location