Back
Spring Cleaning Hacks
---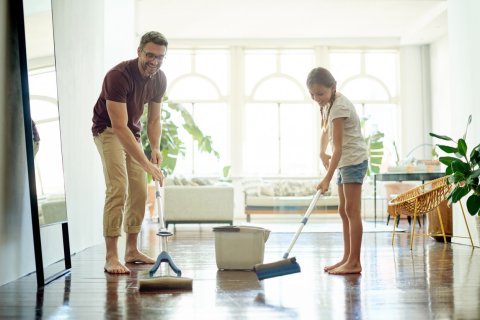 When the rain slacks off and the last of the snow is gone, it's time to open up the house and clean! While spring may feel like the time to go outside, it's also a good time to pull furniture away from the wall, clean up the ceiling fans, and generally disinfect.
Start From the Top Down
Wipe down ceiling fan blades and dust the light fixtures. As you work your way down the walls, dust
picture frames
shelving
light switches
door casing
baseboards
Use a microfiber dust cloth to pick up as much dust as possible, then use a mild soap with a fragrance you like. Water can also work to remove dust. If you use a detergent, make sure you rinse it with clean water to avoid a sticky residue.
Take apart your upholstered furniture and vacuums under the cushions. If you can manage it, move your furniture so you can thoroughly clean the flooring underneath. If you notice signs of uneven wear, consider rearranging your furniture. Once everything is dusted down, thoroughly vacuum and scrub your floors. You may be tempted to try to shampoo your carpets, but consider holding off until things warm up a bit, or until there's a stretch of sunshine to avoid mildew.
Declutter
Take a box into each closet and pull any winter garments that didn't get used. Donate them to help out folks before things get cold this fall. Try to make these decisions early in the day; sorting and discarding when you're tired will not be as effective as when your decision-making brain cells are fresh and raring to go.
The Kitchen
Go through the cupboards and check "best if used by" dates. Make a shelf of things you need to use up soon and toss anything past its prime. Do the same to the refrigerator. While you work on this, make a grocery list. Consider also making a meal plan to help you use up those canned goods and protect your budget going forward.
The Bath
Make a big laundry run of all towels, robes, and your shower curtains. If you notice discoloration on your shower liner, a wash with a bit of bleach can help, or it may be time to replace it. Scrub the tub with a mild abrasive, clean the toilet with a bit of bleach, and carefully scrub around the base to get rid of dust and dirt build-up.
By: GuidedBy
GuidedBy is a community builder and part of the Glacier Media news network. This article originally appeared on a Glacier Media publication.