Back
HOME IDEAS: Create a guest room that visitors will want to come back to
---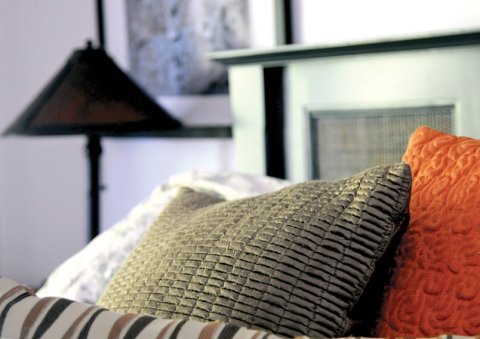 Are you expecting visitors over the summer holidays? There's something special about creating a warm and inviting living space for your guests.
Here are some tips that I have picked up from friends and family over the years that will elevate your guest room space from ordinary to extraordinary.
It's important to create a guest room that is comfortable, but also efficient enough to move around. Keeping the décor tasteful and simple is a great idea. The colour of the room should be a colour that is calm and relaxing. Your guests will want to escape to this space for a quiet cup of tea and some alone time, so you will want to make the room feel as cosy as possible.
Here's how: invest in good bedding. Your guests will appreciate it. A thick mattress pillow topper is always appreciated. Nice quality sheets, a throw and toss cushions will give the room a decorative feel.
Always have a chair or ottoman for your guests to place their luggage and clothing.
There's nothing worse than arriving in a guest room that does not offer any furniture to place your luggage on. Most guests will agree that the floor is not a favourable option.
An empty closet with clean hangers is a nice touch. Upon arriving, your guests will want to hang up some of their clothing and tuck away some of their personal belongings.
An area that offers travelling necessities such as a toothbrush, blow dryer or hairbrush is always appreciated.
This could be a small table by a wall or perhaps a desk area. Remember to leave a small note with your home's Wi-Fi password as well.
A bedside table and lamp is a nice added feature. Place a small coffee station on this table and an alarm clock. And don't forget fresh flowers. Nothing says welcome more than a fresh bouquet of tulips or garden flowers.
It's nice when your guests feel welcome. There is something satisfying about knowing that you have created a comfortable haven for your guests to retire to at the end of a busy day.
Barb Lunter is a freelance writer with a passion for home decor, entertaining and floral design. She runs Blu Dog Staging & Redesign. You can find more information at bludogstagingandredesign.com or lunter.ca.
By: North Shore News
GuidedBy is a community builder and part of the Glacier Media news network. This article originally appeared on a Glacier Media publication.