Back
House Beautiful: 120-year-old Rattenbury home gets new life in Rockland
---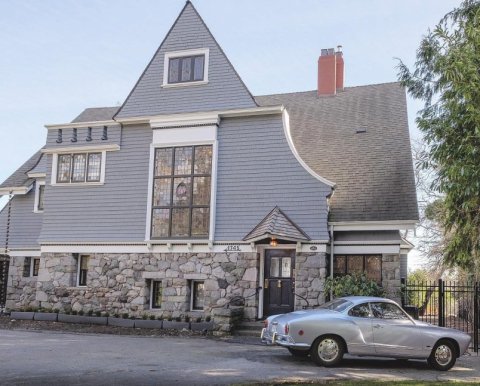 The owners of this handsome 120-year-old home used to live in a custom-designed, ultra-modern house on the waterfront near the Chinese Cemetery on Gonzales Bay.
But Dan Sharp and Pamela Russell grew tired of that chilly, windy location. When Sharp saw one day that a classic Rockland home was up for sale, his interest was piqued.
Renowned architect Francis Rattenbury, who designed the B.C. legislature buildings, had created the home at the turn of the century for his lawyer. It features a massive, cedar-panelled entry hall and a shingle-style exterior that blends American and British Arts and Crafts influences.
The first floor is rock-faced and above is a steep-pitched roof with a front pediment over a striking nine-paned mullioned window.
"We enjoy projects and this one certainly sparked our interest," Sharp said. "It was a 180-degree turn from our previous home, but I'm an old history major and I loved the provenance of the place."
Restoration work took a painstaking 18 months, from top to bottom, but Sharp noted that the biggest delay was in getting the permits from the City of Victoria.
The work was extensive.
"Almost nothing had been done to the house for about 50 years … some work had been done in the kitchen in the 1970s, but it was basically untouched and had been on the market for a bit," Sharp said.
The new owners took most of the 5,500-square-foot home down to the studs and spent three weeks on asbestos-removal alone.
"All the walls on the third floor were full of it. Rattenbury likely had employed three different plasterers for the different floors and each used a different type of mud for each," he said. "The work added about $50,000 to the budget … and it looked like an Ebola breakout while it was being done."
The new owners added sheer walls for earthquake strength and 10 new posts in the basement after an engineering survey. They redid all the electrical wiring and installed two new furnaces, a new water system and air conditioning.
There was no insulation, so spray foam was injected everywhere and all the windows and hardware were restored.
The owners took down a large wall separating the living and dining rooms to open up the main floor, but actually ended up making the kitchen a little smaller, since the 1970s reno had combined several space to create one vast area.
"We closed off one end and made it into an outside eating area with a fireplace," Sharp said. That added to an existing verandah that now stretches across the entire back of the house.
"The only thing that didn't need work was the roof," said Sharp, who owns Western Allergy, a small pharmaceutical firm that specializes in allergy treatment and diagnosis.
"Our intention was to update the house while staying true to the character of the home. Our goal is to make it last another 100 years."
Interestingly, they spent more on lighting fixtures than the whole home cost when it was built for about $4,000.
When Russell first saw the house online, she hated it.
"I had to be convinced because I hate the colour green and it was all green and brown and ugly, with lino tile on the verandah, which was all glassed in. But the inside was just so pretty … and I am still in awe of the house. It has lots of space and wonderful detailing, beautiful windows, ceilings, leaded glass …"
The property was appealing because it was very private," said Russell, an economist and senior portfolio manager at TD Wealth, "and Dan and I could see the potential."
She loves to swim, so they added a long, narrow lap pool and hot tub in the back.
The house used to stand on one acre, but now has half that: "The developer who subdivided it is building houses behind us and took down all the big trees in the back, so that wrecked our privacy, but we have solved that with a fence and plantings."
They cleared overgrown shrubs from the front of the house, took out the waterspouts, put all the wires underground and replaced an old wooden gate with an iron one.
Russell said the toughest part of the project was working with the city. "You'd think they would want to make it easy to restore and preserve old homes, but it was as if they were working against us."
The owners say they had a brilliant team of experts, led by Marque Thompson of Design Marque Consulting in Vancouver and Victoria builder Dorian Jeck of Orian Construction. "They did a fantastic job," Sharp said.
"Dorian managed to custom copy many key elements of the woodwork. We were lucky to have so much talent on the building team. They all deserve a lot of recognition."
Sharp said before it was opened up, the top floor and attic were "very scary and creepy with a weird set of three poky little rooms."
The attic had a tiny window and "funny little door" with a peephole in it. Access was via a doorway off the upper landing that led to a narrow servants' staircase up to the third floor.
Jeck, who specializes in renovating heritage and character homes, said one of the biggest challenges with the project was turning the top floor into a spacious guest suite with a new bathroom and sitting area.
"It's a big house, so it required a big team and when we discovered that the third floor and attic were non-conforming to today's standards, that meant a lot more work. The floors were really bouncy and we had to reconnect that section to the house and make it solid."
The top floor was opened up and the main staircase was extended to the roof, said the builder.
While Sharp has done renovations before and knows it involves making many decisions and having a flexible budget, he said there were many happy surprises in this project, too.
"Our builder was quite giddy about all the things he found … and how he was able to reproduce things like crown moulding."
Sharp said a lot of time was spent recycling elements such as mouldings and door trim from one room to another.
Jeck said it helped that the home "had hardly been touched" over the years. "And I like working with people who want to keep nostalgia."
Sharp said the work was all worth it, since this is the couple's forever home, "but we are also doing it for the whole community.
"I grew up in Vancouver and one thing I love about Victoria is that coming over on the ferry — it's like getting into a time machine. I like to see old buildings restored well."
Other key members of the team included Belzile Artglass & Joinery, Calico Painting Co, Adrian Lise Drywall, Dundee Tile, Dea Electric Inc. Floor work was done by Double N Hardwood Floors, T. Halls Flooring and Douglas C. White Flooring
By: Times Colonist
GuidedBy is a community builder and part of the Glacier Media news network. This article originally appeared on a Glacier Media publication.
Guided By
Location