Back
HOME IDEAS: Bathe your bathroom with simple, modern flourishes
---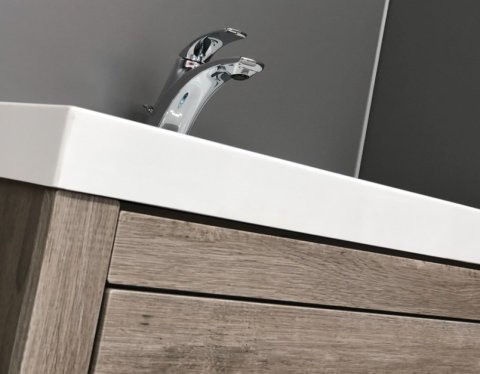 If you were fortunate enough to visit this year's BC Home + Garden Show here in Vancouver, you may have come home with some inspiring design tips for your own home.
A gut renovation isn't always in the cards for everyone, so why not consider updating rooms one at a time?
Bathrooms tend to be one of the rooms in our homes that can look tired and out of date over time. If you have a small powder room or bathroom that you feel needs an update, here are some design tips that will help you make your small space feel larger while at the same time give you that luxe look you're searching for.
Colour and design techniques can make a small space feel larger than it is. The choice of tile, for example, can be used subtly by personalizing it to make a strong style statement. Most homeowners feel that small tiles work best in small bathrooms. But designers may disagree and feel that wide format tiles will result in fewer joints. This in turn results in less grout lines and, therefore, a less cluttered look in your bathroom. Think about using the same tiles on your floor as your walls. This achieves a uniform and continuous look.
Playing with different textures by using a variety of materials and colours in a small space is important. In doing so, depth is created and helps balance out other elements within the room.
Think about using a glass panel instead of a shower curtain. A towel bar on the back of your door and a round vanity will also provide the necessary space.
The functionality of the bathroom must balance the appearance. Accessorize intentionally with towel shelves, hanging containers for toiletries and mirrored medicine cabinets. Each time you add a decorative element, think about how it may have the ability to be functional.
Remember to add a couple of "drama" elements to your bathroom.
A large wall artwork or oversized mirror will add that visual drama. By upgrading small details like your bath mat and towels, you can elevate the final look of
your space.
And don't forget about lighting. Light plays a large role in making spaces appear larger. Consider installing LED lights and putting in additional light fixtures where possible.
Barb Lunter is a freelance writer with a passion for home decor, entertaining and floral design. She also runs Blu Dog Staging & Redesign. You can find more information at bludogstagingandredesign.com.
By: North Shore News
GuidedBy is a community builder and part of the Glacier Media news network. This article originally appeared on a Glacier Media publication.
Guided By
Topics