Back
HOME IDEAS: Carpet tiles give your floor needed versatility
---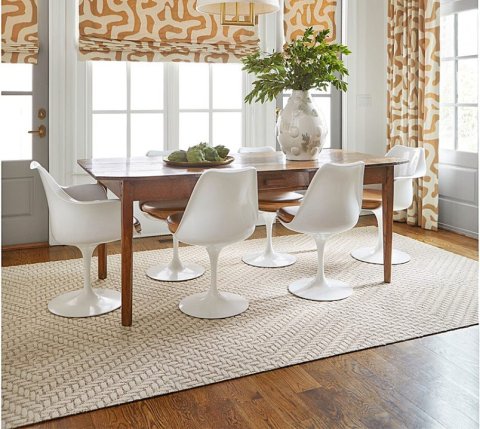 Environmental consciousness is definitely a priority these days, and it's interesting to see how it's spilling into the interior decorating realm.
If you haven't already heard of recycled carpet tiles, you may want to have a look at this product.
Recycled carpet tiles are manufactured by grinding up used vinyl and nylon carpeting. The rugs are free of harmful chemicals and low on volatile organic compounds.
The tiles may be installed directly over most surface floors including hardwood, concrete, plywood and laminate.
Surfaces that are not eligible could include unsealed concrete, waxed floors and carpeted surfaces.
Installation of these tiles is very simple. Carpet tiles from FLOR, an online store dedicated to helping you design a custom rug experience for any room or space, sells adhesive "dots" that can be used to attach the separate tiles together.
These tiles can be cut and be made into any size of rug you desire. Whether it's an area rug or a whole floor, these tiles are incredibly versatile and all that is required for installation is a sharp carpet knife and a metal straightedge for cutting the tiles around corners and walls.
You have endless design flexibility with this product. The tiles may be cut and mixed and matched to create a custom area rug or wall-to-wall carpet. An additional bonus is that if you happen to accidentally drop a cup of strong coffee or wine on the rug tile, you can simply remove the tile and spot clean it under the tap. If all else fails, these durable carpet tiles may be removed and replaced if necessary.
Another wonderful attribute of these tiles is that they are made with recycled materials that do not contain harmful petroleum-based chemicals that dispel gas into the air inside the home.
As far as care and maintenance goes, recycled carpet tiles may be maintained in a similar fashion to regular carpeting. Routine vacuuming and spot cleaning will keep them fresh and new looking for many years.
Tiles generally range from US$8 to US$90 per tile.
For more information check out flor.com.
Barb Lunter is a freelance writer with a passion for home decor, entertaining and floral design. She also runs Blu Dog Staging & Redesign. bludogstagingandredesign.com
By: North Shore News
GuidedBy is a community builder and part of the Glacier Media news network. This article originally appeared on a Glacier Media publication.
Guided By
Topics