Back
How to garden if you don't have your own garden
---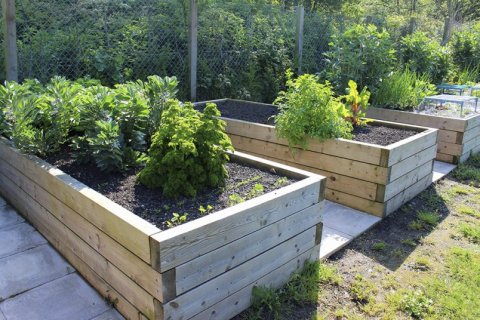 Paying $160 for the year was a pretty good price for a vacation property.
Only eight minutes from Ben's downtown apartment, there was 1,000 square feet of fertile soil with direct water access. Well, irrigation access. Pitching his fiancé Sam on an allotment garden - also known as a community garden - was a surprisingly easy sell.
This is a story about frustrated gardeners – if you are a gardener without a garden, it could be about you.
Ben and Sam took possession of the over-sized allotment on the rainy May long-weekend. Ben, Sam and the other "allotmenteers" waddled down a slope to their gardens in rubber boots and rain jackets with buckets, seeds, seedlings, shovels and plot maps in tow. It was a lot to carry and the plot map, a carefully drawn vision from their February fantasies, was ruined by rain before reaching a numbered marker halfway down the field. The marker identified their slice of the vast, sloppy mud pie of potential.
The rules at Ignatius Farm, where the allotments are located, dictate that all gardeners abide by a 100% organic manifesto, which made weed control a constant battle. There was lots of travel to and from the allotment this season. The irony of being employed in the gardening business is that work demands are highest during garden season, and Sam works in an agricultural sector which runs a similar cadence that sends her far and wide. Spring maintenance was a challenge. They joked that someday they would show up and the farm administrators would have tilled the beloved garden into the soil on the assumption that they had given up the fight. Sam's mom came to the rescue more than once, putting in an afternoon of tearing through weeds and helping save face in the allotment community. A debt to Ben's future mother-in-law which he will carry into the union.
"Community" is the operative word – no two gardens are alike, and neither are two gardeners. At various times, Ben and Sam depended on neighbour-gardeners who became friends. Some were small groups who shared responsibilities for a single plot (smart), including a family new to Canada that managed to wrangle three generations of help when garden demands were highest.
With a growing number of people living in condos and apartments, it should be no surprise that demands for allotment gardens is growing too. In Guelph, the Ignatius Jesuit Centre provides a 600-acre site on a former Jesuit college property. It offers garden plots among walking trails, an organic farm and Jesuit retreat among other things.
For "The Kids", as Mark calls them, the plot occupies a special place in their lives between a tiny apartment in town, their first place together, and the mature country properties outside the city which they aspire to. Many times, Ben has walked back up the slippery slope to look back, over what they have accomplished with their slice of Ignatius. The block of mixed cut-flowers which wooed us all summer with new bursts of colour, the Atlantic Giant pumpkin plant that Ben insisted upon and the neighbours have politely trained back to his side of the garden, and a spent cucumber plant which has since been pickled as favours for wedding guests next May.
Further up the slope, you can look back again and see their plot stitched in among all the others. Perfect rows mixed with mounds of pumpkins, a block of purple kale producing stoically into the frosty fall. It's a perfect patchwork of paradise, and The Kids have fallen in love with their piece of it.
Mark Cullen is an expert gardener, author, broadcaster, tree advocate and Member of the Order of Canada. His son Ben is a fourth-generation urban gardener and graduate of University of Guelph and Dalhousie University in Halifax. Follow them at markcullen.com, @markcullengardening, on Facebook and bi-weekly on Global TV's National Morning Show.
By: Burnaby Now
GuidedBy is a community builder and part of the Glacier Media news network. This article originally appeared on a Glacier Media publication.
Guided By
Location