Back
Working from home? 4 tips for your home office setup
---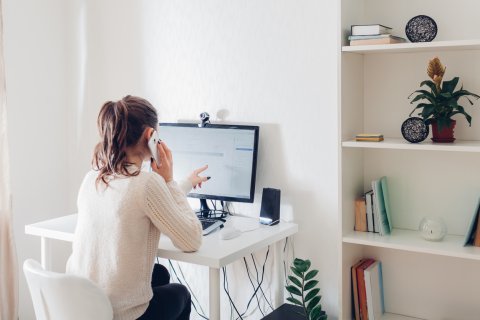 Working from home can be a better experience for you with the right office setup. Setting up your in-home office correctly can help you stay productive and make completing essential work tasks easier. The right in-home office setup will also make you feel more comfortable working from home so that you can blend your professional and personal life more seamlessly.
Choose an Ideal Location
Not every room in your home will be an ideal place to work, and you'll want to take several factors into consideration when choosing where your home office will go. A cramped space that gets stuffy and seems cut off from the world can make working from home a miserable experience, so you'll want to choose an area that gives you enough space. Choosing a space that has at least one window and perhaps a skylight so that you can take advantage of the natural sunlight can make your workspace seem bigger. It's also good to choose an area that doesn't have a lot of traffic flow from people inside your home so that you won't get distracted as easily.
Get the Appropriate Office Furniture
Your in-home office should have a desk or a desk-like table that can fit a computer and perhaps some additional office equipment. An office chair that gives your body ample cushioning and is ergonomically designed to encourage good posture will be another great addition to your office. If you process a lot of documents in your line of work, you can get a file cabinet to store this important information.
Install Shelving
Shelves can make life much easier when working from home. By installing shelving in your office, you'll have more space to keep certain items. Shelves can be installed along the higher and lower areas of walls so that they can hold as many items as possible without getting in the way. The right shelves can also give your home office more character.
Protect Your Electronics
Power surges and other problems could damage the computer and other electronic office equipment that you use for your home office. Plugging your electronics into a surge protector can keep them safe from the harmful effects of power surges. Viruses and malware can also be dangerous for your computer and possibly some of your other office equipment as well, and having a reliable online security software program installed can prevent cybersecurity issues from arising.
You'll want to pay attention to the fine details when setting up your home office. Being attentive to how you create your in-home workspace can make a big difference in how well you do your job.
By: gmd_kate
GuidedBy is a community builder and part of the Glacier Media news network. This article originally appeared on a Glacier Media publication.