Back
Spring & Summer Decor on a Budget: How to Create a Beautiful Home for Less
---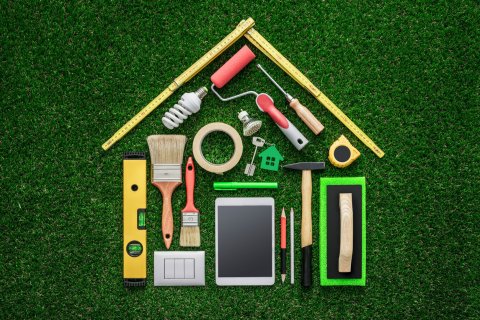 It's finally Summer, which means it's time to freshen up your home decor! But don't worry, you don't have to spend a lot of money to do it. So, whether you're looking to add a little bit of colour or want to transform your space completely, we've got you covered. Read on for our top tips on how to decorate your home on a budget!
Painting your walls is one of the easiest and most affordable ways to change the look of a room. If you're feeling bold, go for a bright and cheery colour like yellow or lime green. Or, if you prefer something a little more subdued, try a light blue or lavender. No matter what colour you choose, painting just one wall can make a big impact. Not ready to commit to an entire wall? Try painting some old picture frames or vases instead.
Incorporating fresh flowers and plants is another great way to add some summer flair to your home. Tulips are always a classic choice, but daffodils and hyacinths are attractive options. Arrange them in a vase or Mason jar and place them on your coffee table, mantle, or kitchen counter. Not only will they add a pop of colour, but they'll also make your home smell amazing!
Invest in new pillows and throw blankets to spruce up your space. Floral patterns are always popular in the Spring and Summer, so look for fabrics with pretty blooms. Or go for a more modern look with geometric prints or stripes. No matter your style, simply adding some new pillows and throws can instantly refresh any room.
Finally, don't forget about the little details! Changing out your doorknob handles, or light switch plates is an easy and inexpensive way to add a touch of personality to your space. Or try placing a few scented candles around the house to give it a fresh and clean smell.
Decorating your home doesn't have to be expensive, and an affordable way to change your home decor is by shopping at local thrift stores, antique shops, and garage sales. You can often find great furniture and decor items for a fraction of the cost. And don't be afraid to get creative! If you see something you like, but it's not quite the right colour or style, try painting or refinishing it to suit your needs.
So, there you have it, our top tips for decorating your home on a budget this Summer! With just a few simple changes, you can create a beautiful and welcoming space that will make you feel right at home.
By: GuidedBy
GuidedBy is a community builder and part of the Glacier Media news network. This article originally appeared on a Glacier Media publication.